You've got mail: Posts from overseas, SARs rise 9.5%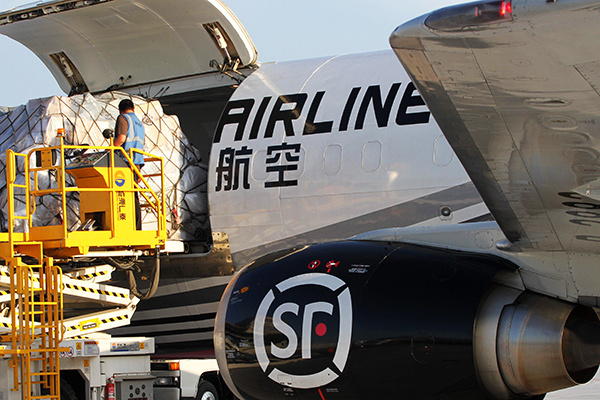 Workers unload freight for SF Express at Xingdong Airport, Nantong, Jiangsu province. (Photo: China Daily)
The volume of international posts and those from Hong Kong, Macao and Taiwan that the Chinese mainland transported have increased and experienced a steady growth amid the COVID-19 pandemic, a senior official said at a news conference on Saturday in Beijing.
In the first quarter of this year, the mainland has transported 320 million items of international posts and posts from Hong Kong, Macao and Taiwan, up by 9.5 percent year-on-year, said Hou Yanbo, deputy director of the market supervision department at the State Post Bureau.
"The international posts and those from the special administrative regions are usually transported by flights, which have been hit badly by the ongoing outbreak of the novel coronavirus in overseas countries and regions as the number of international flights sharply decreased," he said.
"But we've taken strong measures to ensure the transportation capacity, which have achieved rather good results so far."
Hou added that his bureau will step up efforts to improve the transportation of international posts against the backdrop of the novel coronavirus outbreak.
He said the bureau will continue to guide domestic enterprises to make full use of current channels of international air freight, China-Europe freight trains, shipping, and land transportation with neighboring countries and regions.
Also, the bureau will encourage express companies such as China Post, SF Express and Yuantong Express who own all-cargo aircraft to open more new routes, increasing transporting capacity.
Fast-pass services will continue to be available to international posts and the bureau will help lower costs for transportation.
He said the authorities will also strengthen the connection with some global organizations, for example, the World Customs Organization, to improve the construction of transportation system and mutual acceptance of technical standards to increase efficiency of posts transferring and smoothen the international channels.