China exports medical supplies to help combat epidemic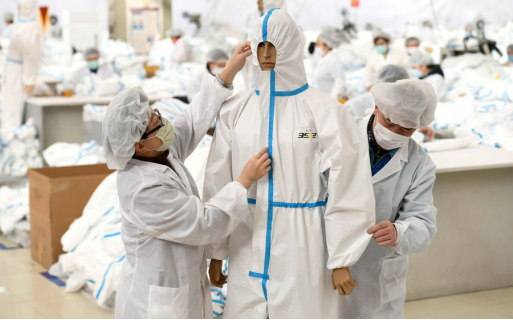 Workers make protective suits at a production line of a clothes company in Shijiazhuang, Hebei province on Feb 18, 2020. (Photo: Xinhua)
As the novel coronavirus spreads across the globe, demand for anti-epidemic materials has seen a huge increase in foreign countries. In order to meet the demand and explore overseas markets, Chinese medical enterprises are speeding up to make related preparations.
According to Securities Daily, several listed medical companies have obtained European Union qualifications for exporting medical materials, including surgical masks, protective clothing and COVID-19 antibody test kits.
Jiangxi-based Sanxin Medtec announced on March 15 in a company statement it had received a CE declaration of conformity issued by Luxus Lebenswelt GmbH, a Germany-based European authorized representative company.
The document officially certified Sanxin's products fulfilled essential requirements in the applicable CE directives issued by the EU, indicating the companies' disposable surgical mask has gained market access in Europe.
The novel coronavirus IgG/IgM detection kit (colloidal gold immunochromatography) developed by Beijing-based Lepu Medical, had gotten CE certification to enter the European market on March 12, said in the company's announcement. This kind of kit is considered to be a more rapid and simple detection method for pathogens in the field.
Various companies, including Sinocare in Shandong and Wondfo Biotech in Shenzhen, also said their virus detection products were granted market access by the EU.
Jiangsu-based Oriental Energy has exported over 3,000 tons of Y381H, a raw material used to make the medical meltblown non-woven fabric for the microbe-intercepting middle layer of face masks and protective clothing, to India, Vietnam and other countries. The company added it will rationally structure its production and export plan based on market conditions, primarily satisfying domestic medical supply demand.
Bluesail Medical, a leading medical device enterprise in Shandong province, has received orders from many countries, including the United Sates, France, the United Kingdom and the UAE. The firm's surgical gloves are now exempted from US tariffs.
Apart from medical devices and protective materials, it's worth noted that traditional Chinese medicine used in fighting the novel coronavirus, such as Banlangen and honeysuckle granules, are drawing the global market's attention.
Shenzhen-based China Resources Sanjiu Medical & Pharmaceutical Co Ltd said its overseas transactions made up a tiny proportion of the company's overall business, and it has exported a small amount of Banlangen, with some of the exports coming as donations.
Faced with the effective control of the epidemic in China and increasing severe conditions overseas, China Resources Sanjiu noted it has already began to research and explore the foreign market for TCM compound granules.