US automakers restart production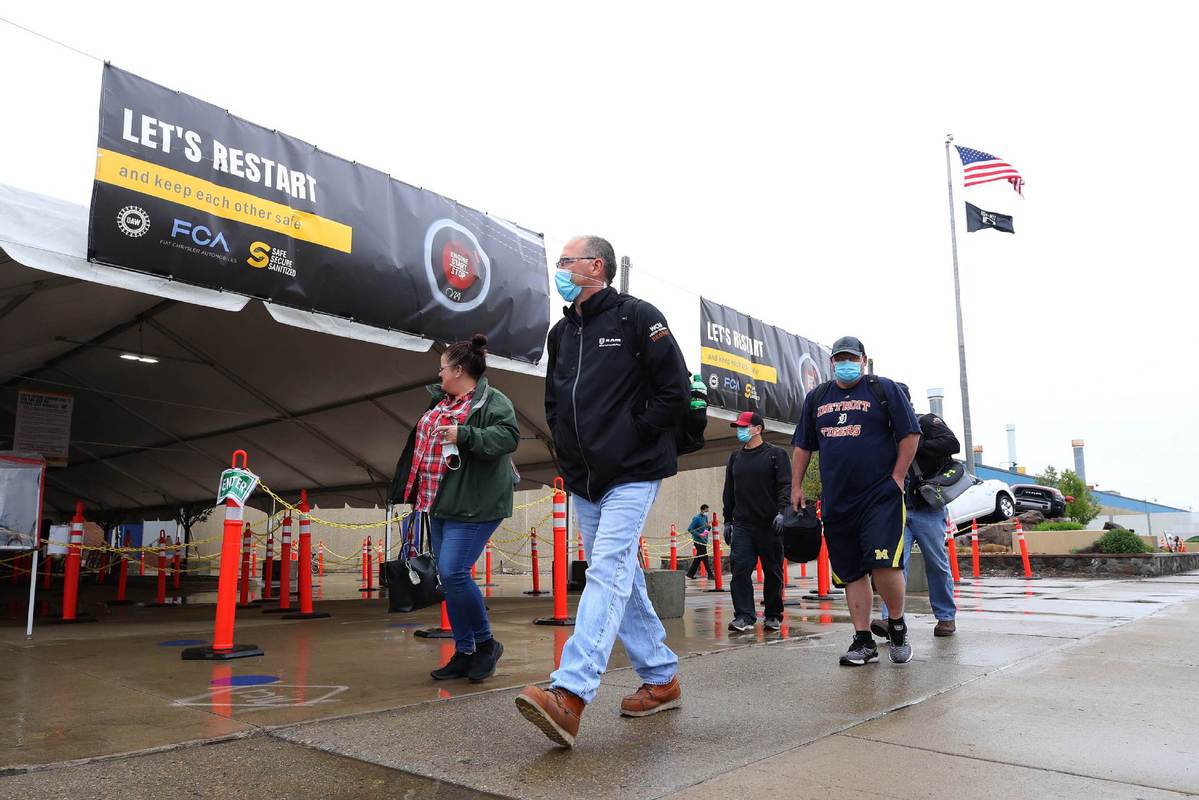 United Auto Workers members leave the Fiat Chrysler Automobiles Warren Truck Plant after the first work shift on in Warren, Michigan, US, on May 18, 2020. (Photo: Agencies)
US automakers took the first steps to resuming production Monday amid continued concern for worker safety and a tattered national economy that's likely to undercut demand for new cars.
Many plants in Michigan and across the nation began with reduced shifts and, in some cases, fewer workers per shift after being closed for about eight weeks due to the coronavirus pandemic. Full production may not resume for several weeks, or perhaps months, officials said.
Worker safety is the immediate concern as production resumed at General Motors, Ford and Fiat Chrysler. But analysts expect automakers to build significantly fewer cars this year, cutting revenue.
"We have made it crystal clear to the companies that the health and safety of our members must be the top priority as we plan for the restart of our economy," Rory Gamble, president of the 400,000-member United Auto Workers (UAW), said in a statement.
"In terms of testing, I have said to all of our employers that we expect a commitment from them for full testing as soon as it is possible. Until then, we expect as much testing as is possible to be conducted."
Honda and Toyota resumed US production last week. Daimler, BMW and Hyundai restarted production in the last few weeks.
Resumption of production will test the new health and safety guidelines that automakers have developed in conjunction with the UAW. Many of the new safety procedures are built on China's experience and appear to work well.
"We've been working intently with state and federal governments, our union partners and a cross-section of our workforce to reopen our North American facilities," Jim Farley, Ford's chief operating officer, said in a statement.
"We have reopened our facilities in China, successfully begun our phased restart in Europe and have been producing medical equipment in Michigan for more than six weeks and are using the lessons from all of that to ensure we are taking the right precautions to help keep our workforce here safe," he said.
The safety guidelines mandate the use of masks, social distancing and frequent hand-sanitizing. Plexiglas barriers have been installed, safe distances have been marked on the floor, and workers are sent home if they feel ill or if they believe they've been exposed to the novel coronavirus.
Ford provides wristwatches that beep when two employees are less than 6 feet apart. The watches may help with contact tracing if an infection is identified.
Theresa Segura, 61, was sent home from the truck plant in Warren, Michigan, after she told officials she had visited her brother, who tested positive for the virus.
"There's a lot of other people out here sick already, and you don't want another life to pass away," she told the Detroit News.
Segura said she knew Lorenzo Seldon, a paint shop worker, who died in March from complications related to COVID-19.
Worker safety is the immediate concern, but customer demand in the stalled economy is a long-range problem for the auto industry.
Automakers are expected to produce about 9 million vehicles in the US this year, the lowest number since 2011, according to LMC Automotive, a Detroit-based industry research firm.
The company sees a drop of "approximately 3 million units from China, North America and Western Europe each, accounting for more than two-thirds of the entire volume reduction".
Reduced production means fewer hours for autoworkers and suppliers. That quickly becomes reduced income tax and sales tax revenue for government.
In the US, about 36.5 million people have filed unemployment claims in the last two months. The unemployment rate is 14.7 percent and almost certain to go higher, forcing many to cut back.
Retail sales declined 16.4 percent in April, the sharpest drop since the government began tracking the sector in 1992. That followed an 8.3 percent drop in March, the US Commerce Department reported.
"This will be a test," Gary Johnson, Ford's chief labor affairs officer, told the Detroit News, on whether people will buy a big-ticket item like a car, even as automakers and dealers offer zero percent financing.