Sales personnel in most demand
The sales personnel were in most demand in China in the third quarter this year, as per the top 100 list of China's most in-demand professionals in the third quarter.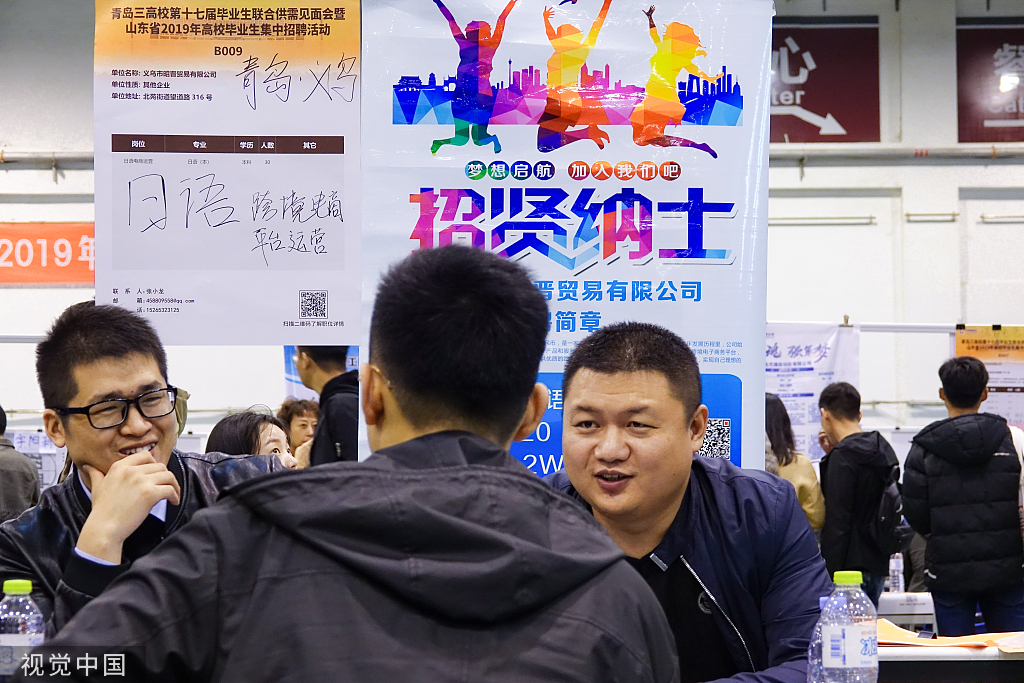 Recruiters talk with an applicant at a job fair held at the Qingdao International Convention Center in Qingdao, East China's Shandong province, on Nov 17. (Photo: VCG)
According to the National Business Daily, the list released on Thursday by the China Employment Training Technique Instruction Centre (CETTIC) is based on recruiting and job-hunting data from designated public employment service centers in 102 cities across China.
Ranking at the top 10 are salesperson, cashier, restaurant service staff, security guard, cleaning attendant, shop assistant, housekeeping personnel, lathe operator, welder and porter, the National Business Daily said in its report, adding the sales personnel were in shortage in 66 of 102 cities in the third quarter.
It is noteworthy that 42 of the 100 most in-demand professionals fell in service sector classified by the country's occupational catalogue 2015 version.
Experts said professionals shortages in service sector are largely attributed to the rapid development in service industries. In recent years, the service sector has been a major employment sector.
The Ministry of Human Resources and Social Security said the top 100 list was a dynamic reflection on the human resource market, an effort to serve the country's ongoing vocational training work, helping to improve the pertinence and effectiveness during the training.
The list also offers directive references for recruiters and applicants.