Tokyo stocks end flat amid caution over spike in domestic cases of COVID-19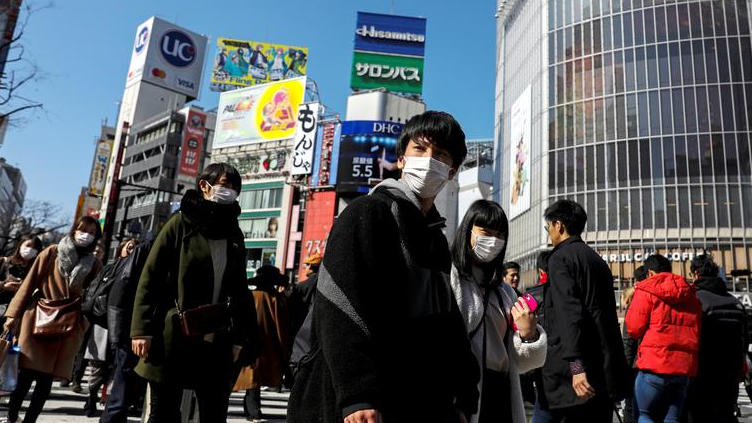 File photo
TOKYO, April 9 (Xinhua) -- Tokyo stocks closed essentially flat on Thursday as the market extended its winning streak to a fourth day, although concerns over a spike in the COVID-19 cases in Tokyo weighed on the market mood.
The 225-issue Nikkei Stock Average edged down 7.47 points, or 0.04 percent, from Wednesday to close the day at 19,345.77.
The broader Topix index of all First Section issues on the Tokyo Stock Exchange, meanwhile, lost 8.49 points, or 0.60 percent, to finish at 1,416.98.
Trading got off to a lackluster start with shares remaining weak throughout the day as investors were reluctant to chase the market's upside higher after the Nikkei added more than 8 percent during its past four-day winning streak, brokers here said.
They added that amid a lack of clear direction, investors seemed content with their holdings after a recent spree of buybacks with profits locked in after issues recouped ground following routs prior to the market's upswing.
"The market today lacked clear trading cues. Investors took a break following recent buybacks on hopes that the spread of the COVID-19 is slowing in Europe and the United States," Seiichi Suzuki, chief equity market analyst at the Tokai Tokyo Research Institute, was quoted as saying.
A comparatively weak yen gave some exporters a lift and energy-related shares got a boost from rising prices for crude oil, equity strategists said.
But caution was prevalent throughout the day as official figures showed that Japan recorded a new record of daily COVID-19 infections a day earlier, with Tokyo also recording a new single-day record at 144 cases, with the record renewed Thursday with more than 180 new cases confirmed in the capital, adding to fears of the virus' continued spread in the metropolis.
Japanese Prime Minister Shinzo Abe declared a state of emergency over the virus earlier in the week, but not a lockdown, in Tokyo and six other prefectures, with concerns heightening that the world's third-largest economy is heading for a recession with corporate earnings likely to take a battering owing to the effects of the pandemic, analysts said.
They added that investors were waiting for some positive news on the issue.
"While markets are getting away from the worst period, shares won't gather steam without good news such as that the pandemic's impact on the real economy isn't worse than expected," Shingo Ide, chief equity strategist at the NLI Research Institute, said.
Higher prices for crude oil, nevertheless, sent energy shares higher Thursday, with exploration giant Inpex Corp. adding 1.6 percent, while Japan Petroleum Exploration ended the day 2.6 percent higher.
In terms of individual issues moving, heavily weighted Nikkei component SoftBank Group Corp. rose 1.1 percent after one of its startups announced cost cutting measures to cope with the impact of the coronavirus.
Nissan Motor Co. Ltd., meanwhile, accelerated 1.4 percent, after reports the automaker is seeking a 500 billion yen (4.59 billion U.S. dollars) credit line from megabanks amid a slump in sales owing to the virus.
By the close of play, securities house and land transportation issues led notable decliners, while mining and marine transportation issues comprised those that gained the most.
Issues that rose outpaced those that declined by 1,098 to 1,007 on the first section, while 64 ended the day unchanged.
On the main section on Thursday, 1.368 billion shares changed hands, dropping from Thursday's volume of 1.681 billion shares.
The turnover on the penultimate trading day of the week came to 2,299.7 billion yen (21.13 billion U.S. dollars).