US companies seen investing more in business this year after tax cuts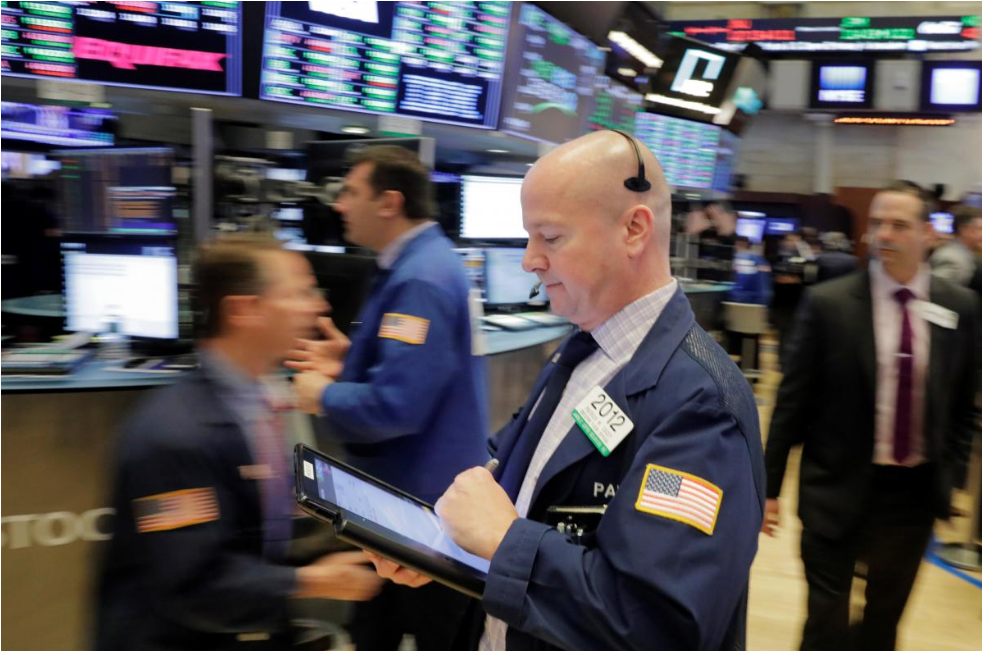 Traders work on the floor of the New York Stock Exchange shortly after the opening bell in New York, US, May 14, 2018. (Photo: Reuters)
US companies could plow more of the money saved from sweeping tax cuts into business investment later this year, perhaps even surpassing a jump in first-quarter capital expenditure that was the highest in almost seven years, strategists and analysts said.
Traders work on the floor of the New York Stock Exchange shortly after the opening bell in New York, US, May 14, 2018. REUTERS/Lucas Jackson - RC1161F49D30
Higher spending on technology, equipment and facilities could ease worries that S&P 500 companies have reached a peak in the profit growth investors are counting on to extend the nine-year bull market in equities.
The increased spending in the first quarter follows significant cuts in corporate taxes approved late last year by the Republican-led Congress. Companies have also been returning the tax cut windfall to shareholders via share buybacks and increased dividends at amounts never seen before, highlighted by Apple's $23.5 billion repurchase in the first quarter.
With data in from 94 percent of S&P 500 companies, first-quarter capital expenditures total $159 billion, up more than 21 percent from a year ago and on track to be the highest year-over-year growth since the third quarter of 2011, according to S&P Dow Jones Indices data.
"These numbers are high, and I would expect higher numbers in capex this year. It takes a little bit longer for companies to plan and to execute" capital expenditure decisions, said Howard Silverblatt, senior index analyst at S&P Dow Jones.
That has the potential to underpin revenue gains well into next year, strategists said. Moreover, additional spending could extend the growth cycle for earnings if it results in increased sales and operating efficiencies.
The Tax Cuts and Jobs Act passed in December was also touted as a way to create more jobs, drive US economic growth and level the playing field with companies based outside the United States. It slashed the corporate income tax rate to 21 percent from 35 percent and charges multinationals a one-time tax on profits held overseas.
HIGHER EPS GROWTH
Stocks have been volatile in recent months because of rising interest rates and investor worry that strong earnings expectations have already been priced into the market.
"Provided there's no major changes in the macro world and geopolitical area, capex should drive higher (earnings per share) growth," said Omar Aguilar, senior vice president and chief investment officer for equities and multi-asset strategies at Charles Schwab Investment Management.
The tax overhaul already has resulted in a sharp jump in S&P 500 earnings forecasts for the year, according to Thomson Reuters data.
Some investors have worried that the first quarter's estimated 26.1 percent increase may represent the highest growth for S&P 500 earnings while the economy is still expanding.
Profit growth for 2018 is forecast at 21.7 percent, while 2019 growth is seen at 9.4 percent. Revenue growth for the first quarter is estimated at 8.2 percent versus a year ago, and sales growth for 2019 is expected to come down as well.
"Clearly companies are flush with cash and are buying back shares," said Terry Sandven, senior equity strategist at US Bank Wealth Management in Minneapolis. "But the next driver will be capex, and we will get a better read on that over the next couple of quarters."
To be sure, much of the spending is coming from the technology space, rather than a wide range of companies.
Among the biggest early spenders, Google parent Alphabet recorded $7.3 billion in capital spending for the first quarter, up from $2.5 billion a year ago, and the highest amount for the company since at least 2004, based on data from S&P Dow Jones.
Apple's capex increased to $4.2 billion from $3 billion a year ago, while Amazon.com's jumped to $3.1 billion from $2.1 billion, the data found.
The tech sector accounted for 44 percent of the increase in first-quarter capex spending by S&P 500 companies, with energy at 16.6 percent and the consumer discretionary sector at 15.1 percent, according to Credit Suisse data.
Energy led capex in previous years, said Patrick Palfrey, vice president and equity strategist at Credit Suisse Securities in New York.
Also, corporate spending on capital improvements was rising even before changes to the tax law were approved, so not all of the first-quarter jump can be tied to those benefits.
"Capex follows profit growth," said Keith Parker, UBS US equity strategist, so "conditions were ripe anyway for a rebound in corporate spending."
Still, he said, the tax overhaul "is an additional reason for it to take off and for longer."