Four-way agreement signed to boost US beef imports
People's Daily app
1510300270000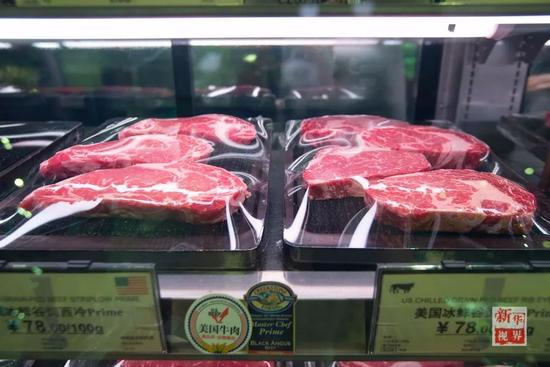 File Photo
Beijing (People's Daily) - China's e-commerce platform JD.com, Bank of China(BOA), the Montana Stockgrowers Association (MSGA) and Cross Four Ranch in Montana signed a quadrilateral agreement in Beijing Thursday to boost US beef imports to China.
Under the agreement, JD.com would import $200 million worth of beef from Montana in the next three years and invest $100 million in a feeding and processing infrastructure in the state. The agreement, part of a series of business deals signed during Trump's first visit to China, is unprecedented since China lifted the ban on US beef imports in July.
"This is a win-win business deal that will benefit all signatories," Fred Wacker, owner of Cross Four Ranch in Montana, told the People's Daily in an interview on Thursday in Beijing, adding that the agreement with a Chinese e-commerce giant gave Montana ranchers like him remarkably more market access to the burgeoning Chinese market, while the financial endorsement of China's biggest State-owned commercial bank would provide safety guarantees to the transactions.
US beef re-entered into China in September, but sales have been increasing at a relatively low rate. "Many US ranches don't have beef cattle tracking systems and could not satisfy China's requirements, which significantly limited the amount of cattle that could be sold in China," Errol D. Rice, executive vice president and managing director of Montana Stockgrowers Association, told the People's Daily on Thursday, adding that a quadrilateral agreement involving rancher associations like his own would help US ranchers get a better understanding of the Chinese market and level the regulatory playing field. "American companies shouldn't always complain about the lack of market access, but listen to, if not cater for, Chinese customers, and get things done," Rice added.
Xu Chen, CEO of Bank of China USA, said that its bank will benefit from the agreement by providing related financial services, solidifying its status as the oldest and largest Chinese bank in the US.
Xu concurrently serves as the chairperson of the China General Chamber of Commerce USA. The CGCC played an intermediary role between the four signatories, which was first brought up by Wacker during the interview. Founded in 2005, the CGCC consists of more than 1,500 companies, Chinese and non-Chinese alike, and 55 CGCC members are ranked on the 2017 Fortune Global 500.
"Westerners have established a number of chambers of commerce in China, such as AmChamChina, which acts as an effective tool for 'collective bargaining." Xu stressed that Chinese "going-global" entrepreneurs should learn from their Western counterparts. "A quadrilateral deal of this kind is also a victory for emerging overseas Chinese chambers of commerce," Xu added.
China is the second-largest but fastest-growing beef import market in the world. US beef imports had been banned for around 14 years until China lifted the ban in July this year as part of the 100-day action plan reached between Chinese President Xi Jinping and Trump during their first meeting at Mar-a-Lago in April.