China Eastern inks $1.45b deal at CIIE
China Eastern Airlines signed a 10.13 billion yuan ($1.45 billion) engine and maintenance agreement with Rolls-Royce of United Kingdom at the China International Import Expo in Shanghai on Tuesday.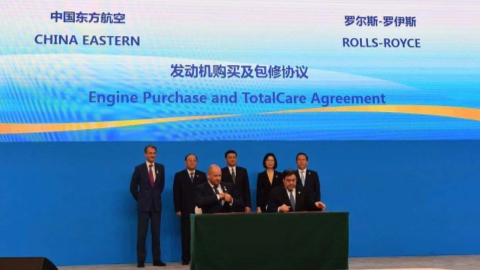 Photo: Shine.cn
The Engine Purchase and TotalCare Agreement, one of the largest orders signed at the expo on civil aviation, includes four Trent XWB plane engines and maintenance services for 44 such engines, the Shanghai-based carrier said.
The deal is for the 20 Airbus 350 XWB jets that China Eastern ordered in 2016 "to ensure the reliability and experience of its new A350 fleet," it said in a statement. The first A350 is scheduled to be delivered to the airline this month.
The Trent XWB was specifically designed for the A350 wide-body planes. The order demonstrated the opportunity that China's civil aviation market has brought to the global enterprises as well as China Eastern's determination to drive a high-quality development, the carrier said in a statement.
China Eastern is currently operating a fleet of about 700 aircraft which create a flight network from mainly Shanghai and Beijing to 1,074 destinations in 177 countries and regions. It handles over 120 million passengers annually.
The agreement was signed at the Chinese Central SOE International Cooperation Forum during the expo which aims to enhance the cooperation, exchange and development between central state-owned enterprises of China and foreign enterprises.
Cover image: File photo: VCG