BYD, Hino join hands on battery project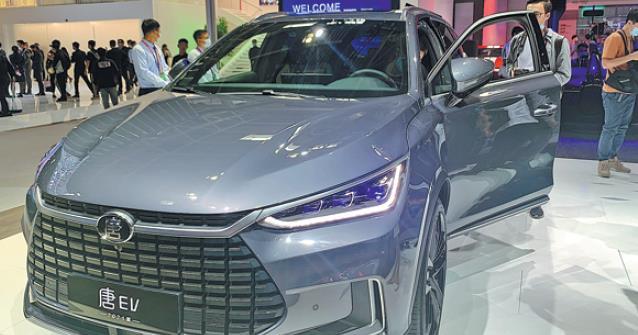 China's biggest domestic electric vehicle producer BYD signed an agreement with Japanese commercial vehicle manufacturer Hino Motors on Wednesday to set up a 50-50 joint venture to develop batteries for electric vehicles and electric units, in an effort to share the extensive costs of development.
According to the agreement, the new company is scheduled to be established in China in 2021 and plans to launch vehicles under the Hino brand by 2025. BYD and Hino will combine the strengths of both companies to develop and spread the best-fit commercial battery electric vehicles for customer needs, primarily in the Asian market, to achieve low-carbon societies.
Since BYD released its first pure electric commercial vehicle the K9 in 2011, it has sold more than 50,000 worldwide, ranking first globally.
Founded in 1942, Hino, a member of the Toyota Motor group, produces trucks and buses. It launched the world's first commercial hybrid city bus in 1991.
The venture is one of a series of tie-ups between Chinese and foreign automakers. BYD and Toyota established a 50-50 joint venture focusing on the R&D and manufacturing of electric passenger cars in April.
Toyota said last year that it plans to achieve half of its vehicle sales from electric models by 2025.
Industry analysts said Japanese auto groups are latecomers to pure electric vehicles. As the electric vehicle market is growing quickly, the best alternative is to work with a new energy vehicle giant.
BYD has been developing batteries for electric vehicles since 1995. Its newly-unveiled blade-shaped battery is low cost, safe and has high mileage, according to the company. Many carmakers have shown interest in this product.
Toyota has been developing its own electric batteries and tapping new suppliers to avoid a shortfall in supply, as demand for electric vehicles is expected to increase in the coming decades.
BYD said it sold 19,881 new energy vehicles last month, up 45.3 percent year-on-year and 30.1 percent month-on-month.
From January to September period, BYD sold 110,941 new energy vehicles, down 42.4 percent year-on-year. The slump narrowed from 49.1 percent in the January-August period with the help of the rebound in September.