China's trade growth weathers US tariff headwinds
China's foreign trade maintained steady growth in the first seven months of this year despite escalating trade tensions with the United States, with data pointing to a more balanced trade picture.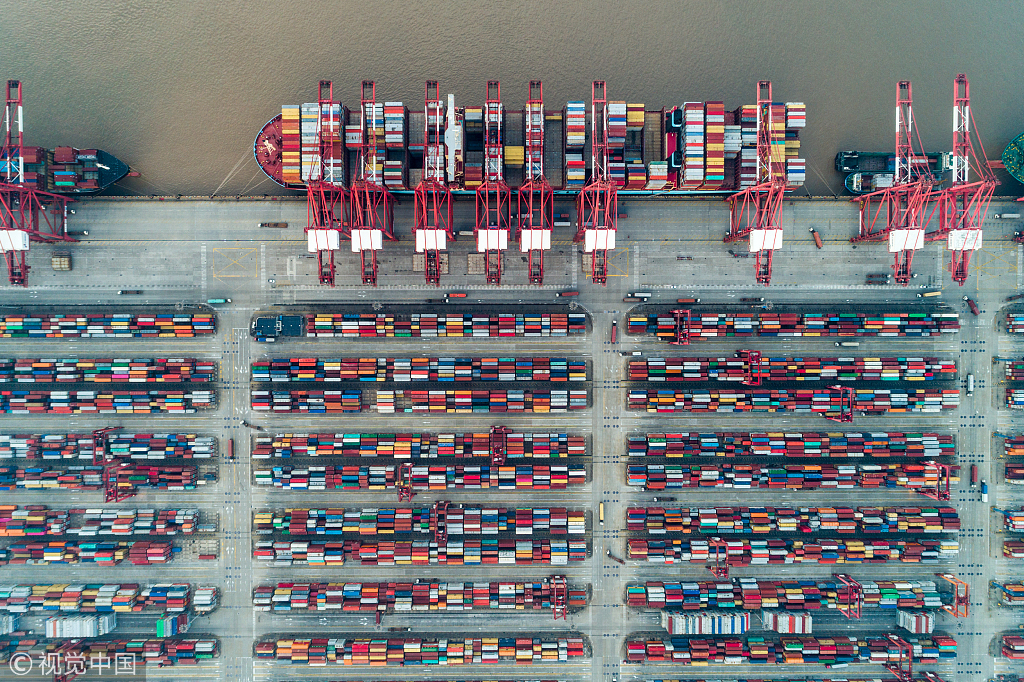 The Yangshan Deep Water Port (Photos: VCG)
China's goods trade went up 8.6 percent year on year to 16.72 trillion yuan ($2.45 trillion) in the January-July period of this year, customs data showed Wednesday.
Exports rose 5 percent year on year while imports grew 12.9 percent, resulting in a trade surplus of 1.06 trillion yuan, which narrowed by 30.6 percent, according to the General Administration of Customs.
"The steady growth in the first seven months is a hard-won result amid external uncertainties," said Bai Ming with the Ministry of Commerce research department.
TRADE WAR IMPACT LIMITED
July's trade data was under the spotlight as it was the first reading since fresh US tariffs on a wide range of Chinese goods went into effect.
The United States slapped an extra 25 percent tariff on $34 billion worth of Chinese imports beginning July 6, to which China responded with an equivalent retaliatory measure.
In July, China's exports rose by 6 percent to 1.39 trillion yuan, a reading that beat market expectations, Huatai Securities said in a research note.
The better-than-expected growth might be partly because China tends to strengthen economic and trade ties with other major economies amid trade tensions with the United States, it said.
Wednesday's data showed that China's trade with the United States totaled 2.29 trillion yuan in the first seven months, up 5.2 percent year on year.
During the same period, trade with the European Union, its largest trading partner, climbed 5.9 percent, and trade volume with ASEAN countries increased by 11.6 percent.
Trade with countries along the Belt and Road totaled 4.57 trillion yuan, up 11.3 percent year on year, 2.7 percentage points faster than the average growth rate, data showed.
"The tariffs have so far had a limited impact on overall trade," China Merchants Securities said in a research note.
While short-term effects might be mild, the impact of US tariffs on China's trade may be gradually revealed as time passes and more tariffs on Chinese goods threatened by the United States take effect, it noted.
MORE BALANCED TRADE
Wednesday's data also revealed a more balanced trade picture, with China's imports jumping 20.9 percent to reach 1.21 trillion yuan in July.
Thanks to the surge, the trade surplus narrowed by 42.6 percent to 176.96 billion yuan last month. In the first seven months, the trade surplus narrowed by 30.6 percent compared with a year ago.
China has been seeking a more balanced trade pattern, with a series of pro-import policies introduced.
Earlier in July, China's State Council released guidelines on expanding imports, promising tariff cuts, clean-ups of unreasonable price mark-ups, and better intellectual property rights protection.
The policy incentives have had positive impacts on imports, Huatai Securities noted.
It added that a decision of intensifying efforts to improve infrastructure, made at a meeting of the Political Bureau of the Communist Party of China Central Committee in late July, will further drive imports of industrial raw materials such as iron ore.
Looking forward, China tends to maintain strong imports, while exports are also likely to hold steady despite uncertainties rising from trade tensions with the United States, Bai said.