Boeing-Bombardier dispute ramps up at U.S. trade hearing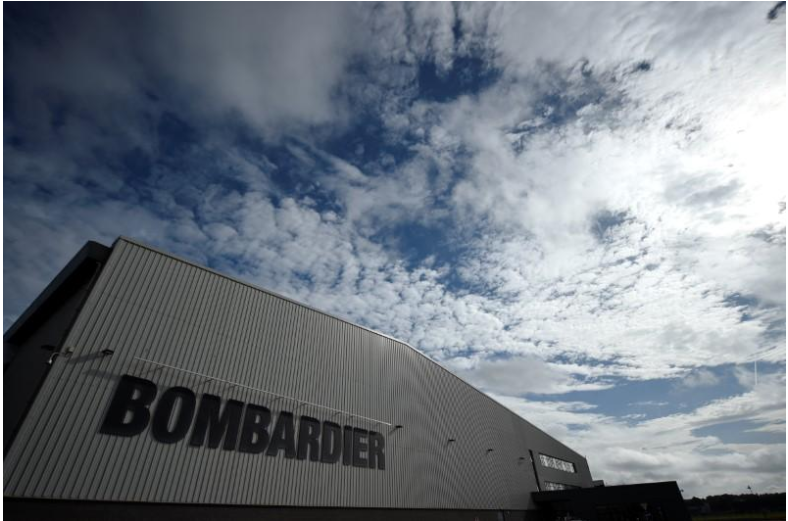 The Bombardier factory is seen in Belfast, Northern Ireland September 26, 2017. Photo: REUTERS
Boeing Co and Bombardier Inc battled on Monday over the US planemaker's claim that its Canadian rival used billions of dollars in illegal government subsidies and dumped its newest jetliner in the United States below cost.
Boeing said Bombardier had harmed its ability to sell 737s in the US market at a heated hearing of the US International Trade Commission (ITC), one of the final steps in a bitter trade dispute due to conclude in February.
Bombardier argued Boeing's large 737 order book shows there has been no adverse impact from its CSeries jet.
"Boeing is making money hand over fist. And with a backlog of 737 orders years into the future, there are no signs of difficulty on the horizon," Bombardier representative Peter Lichtenbaum said in opening remarks.
If the ITC sides with Boeing, as it has so far, it could effectively keep US airlines from using Bombardier's CSeries jet by imposing duties of nearly 300 percent, one of the largest ever imposed for a market-based economy, Boeing said.
The US Department of Commerce is due to finalize the proposed duties on Monday or Tuesday.
If Bombardier wins, Chicago-based Boeing says its smallest 737 model could face unfair competition from the CSeries for decades.
Canada's ambassador to the United States, David MacNaughton, warned that a positive finding of material harm to Boeing by the ITC could present a possible violation of World Trade Organization agreements and prompt a more formal complaint with the global trade group.
"Boeing's assertion that future imports from Canada threaten to cause material injury is necessarily based on just the type of 'speculation and conjecture' that is prohibited under both US and international law," MacNaughton told the panel.
Canada earlier this month scrapped plans to buy 18 Boeing Super Hornet fighter jets, underlining Ottawa's anger over the trade challenge. Boeing has said it considered all potential risks before deciding to launch its trade case.
The case stems from an April 2016 sale of 75 CSeries jets to Delta Air Lines Inc. Boeing claims Delta paid $20 million per plane, well below an estimated cost of $33 million and what Bombardier charges in Canada.
"A single large order, like Bombardier's sale to Delta, takes years of demand out of the market. In this industry, if we lose a sale, it's gone forever. That's years of lost production and deliveries for Boeing, years of lost work for our employees, and years of lost work for our US suppliers," Boeing Executive Vice President Kevin McAllister said.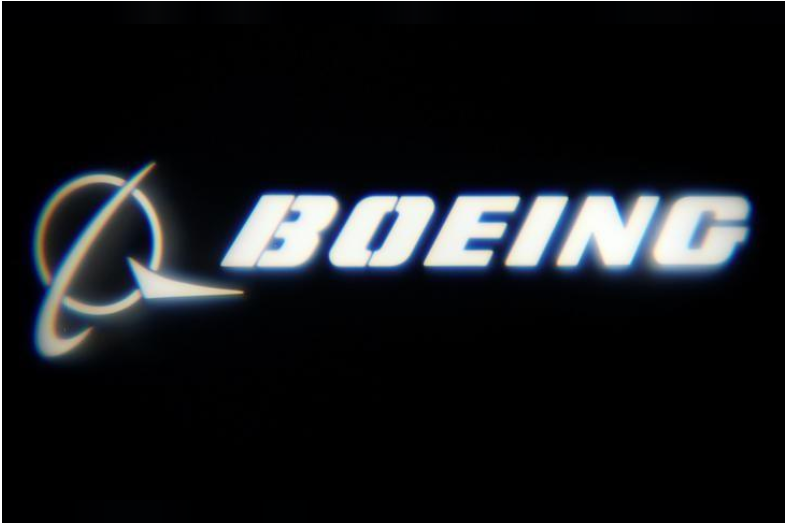 The Boeing Company logo is projected on a wall at the "What's Next?" conference in Chicago, Illinois, US, October 4, 2016. Photo: REUTERS

European plane maker Airbus SE, which is buying a controlling stake in the CSeries program and has a competing plane, has said it could move CSeries production to a factory in Alabama, making it a US product.
Boeing says that should not negate the duties because Airbus and Bombardier would import fuselages and wings and merely be assembling in the United States.
But Bombardier argues that Boeing's case is against full imports of airplanes, not parts, so it does not apply to imports of wings, fuselages and other pieces. Bombardier says more than half of the value of CSeries content comes from the United States, including engines by Pratt & Whitney.
DEFINING DEAL
Boeing says the Delta deal was market defining because other airlines will demand the same low price and the planes will be in service for decades.
All jetliners are sold below cost initially because airlines are taking a risk on a new jet model and upfront development costs are high, Bombardier argues. The cost drops over time as the factory produces more planes and gets better at making them.
The US planemaker said Bombardier failed to cooperate in a US investigation providing pricing information to the United States.
Bombardier said it turned over the Delta sales contract but cannot accurately estimate the cost and price of those planes because they are being built and delivered in coming years.