Opening up, reform results help Tianjin attract foreign investors
Overseas investors and foreign companies have shown great interest in the mixed ownership reforms of State-owned enterprises in Tianjin after a promotional seminar held in Beijing highlighting Tianjin's achievements in luring private investors to traditional SOEs.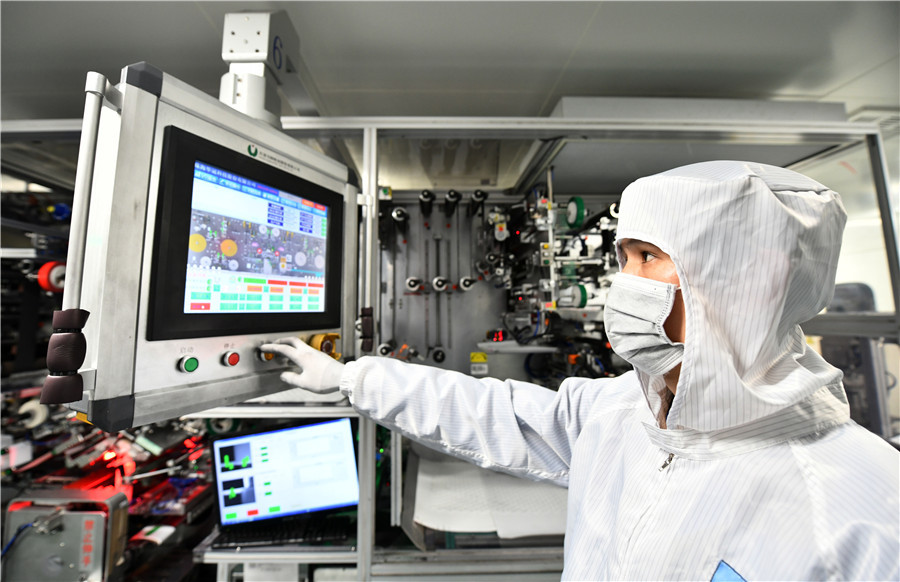 An employee from Tianjin Lishen Battery Joint-stock Co Ltd, a State-owned enterprise, works at the production facility. (Photo: Xinhua)
Lin Zhi, an official in charge of economic cooperation under the Embassy of Ireland in China, indicated that the mixed ownership reforms projects promoted by Tianjin in "such a great volume and extensive coverage of sectors," means ample opportunities for Irish companies.
"Currently, about 120 Irish companies have contacts with China and I will bring the information to more Irish companies. Since Irish companies especially have advantages in food and pharmaceutical industries, I will mainly introduce the sector's latest reform opportunities to them in a bid to promote possible future cooperation," Lin said.
During the event, the city showcased many of the country's time-honored brands from Tianjin Food Group and Tianjin Pharmaceuticals Group, both of whom are vying for foreign investors.
"I'm impressed by Tianjin's resolute efforts to launch the reforms, and particularly, in some cases the amount of equity transfer can even reach 100 percent," said Xiao Bo, a senior investment executive of the Australian Trade and Investment Commission.
Statistics showed that currently, 13 local SOEs have finished their mixed ownership reforms, involving total assets of 498.4 billion yuan ($71.5 billion).
A total of 44.7 billion yuan has been introduced to the companies, said Liu Zhi, deputy director of the Tianjin Municipal State-owned Assets Supervision and Administration Commission.
The city has released Policies on Supporting Mixed-Ownership Reform of the State-Owned Enterprises of Tianjin (Interim), including 15 policies concerning the land integration of real estate, tax planning and other respects.
The moves are aimed at boosting the business climate for new investors, he said, citing the Tianjin Building Material Group as an example.
It has been more than a year since the enterprise has implemented its mixed-ownership reform with BBMG, the country's third largest cement company which is headquartered in Beijing.
By promoting the employee's stock ownership plan, the group has improved its incentive system to build a community with a shared future between the employees and the enterprise.
By the end of September 2019, the revenue of Tianjin Building Material Group reached 12.36 billion yuan, a year-on-year increase of 198.5 percent, Liu said.
Its net profits have been recorded as eight times the figure during the corresponding period of last year and the asset-to-debt ratio dropped by 3.2 percent year-on-year.
The Central Economic Working Conference held last December has put forward the proposal that SOE reforms be accelerated.
The mixed ownership reforms of SOEs have been significantly enlarged in terms of their overall scale in recent years.
Data analyst company Wind said that by the end of December 2019, a total of 298 cases of the mixed-ownership reforms of SOEs had been conducted among A-share listed companies, of which 186 had been completed successfully, and over 100 SOEs had been infused with private capital.
The Foreign Investment Law came into being on Jan 1. It will include more opportunities for foreign companies to be involved in the mixed ownership reforms of SOEs.