Dealers talk up Huawei Mate 40 prices after phones sell out in seconds
Global Times
1603620976000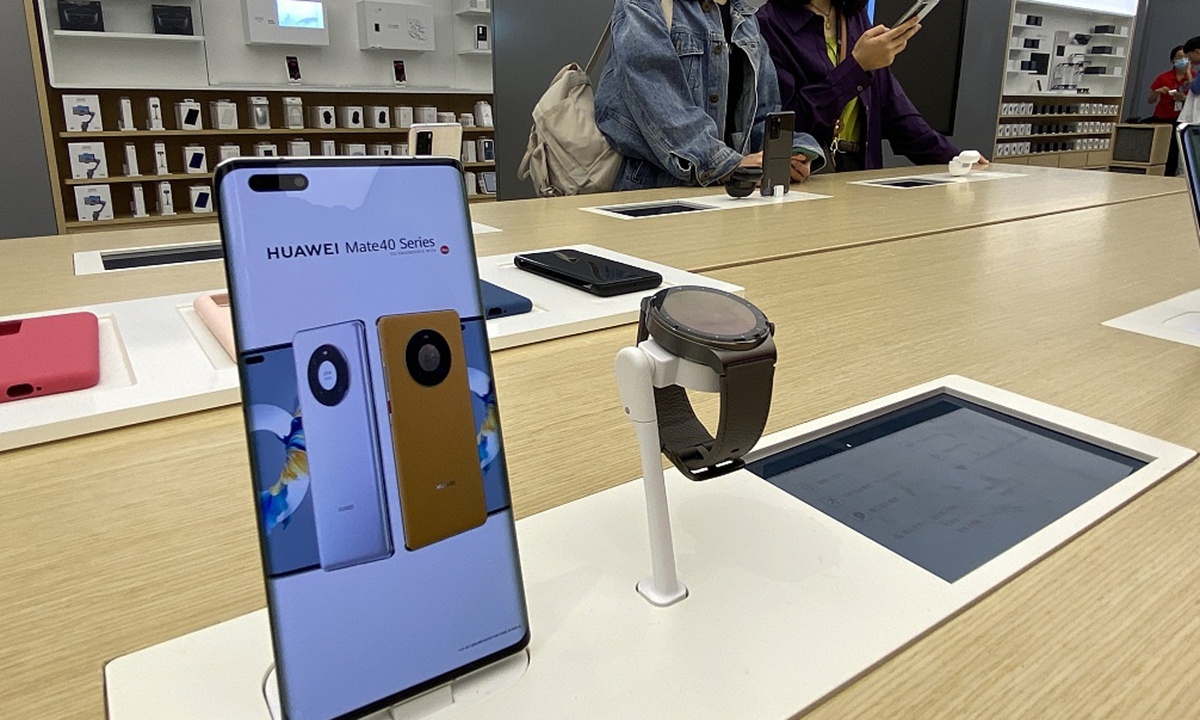 Although the domestic prices for the newly launched Huawei Mate 40 series have not been officially announced, speculators and industry players said the prices could be driven up by hot pre-orders and the limited number of Kirin chipsets due to the US government's cut-off of supplies.
Some excited Huawei lovers will offer at least 1,000 yuan ($149.55) above the official price to grab one of the phones, which could possibly be the very last series carrying Huawei's Kirin chipsets, according to media reports.
"Dealers found ways to hoard Mate 40s long ago, and given the current situation, a price float of around 1,000 to 2,000 yuan is highly possible," an industry insider told the Global Times on Sunday, while noting that the official price will still be set based on past practice.
At the Thursday launch, Richard Yu Chengdong, head of Huawei's Consumer Business, said that the Huawei Mate 40 series was priced at 899 euros ($1,066.44), the Mate 40 Pro was priced at 1,199 euros, while Mate 40 Pro+ was priced at 1,399 euros. The price in the domestic market is normally 1,000 to 2,000 yuan lower than in the global market.
Some on the industry chain forecast the domestic price for the Mate 40 Pro will be set at about 6,499 yuan, similar to the iPhone 12, which is priced at 6,299 yuan. The iPhone 12 Pro is priced at 9,299 yuan.
There's been heated debate online about the prices of the new Huawei phones, with some voicing firm support for the Chinese firm no matter how expensive the phones are, while others said the prices might be unaffordable.
"My choice of smartphone has nothing to do with patriotism, I will just choose the right thing - Apple, with its mature ecosystem that I'm long used to, will still be my priority this time," Wei Liangchen, a Beijing-based white-collar worker, told the Global Times on Sunday.
So far, the Huawei Mate 40 seems to be more popular than Apple. The new Mate 40 phones for pre-order sold out on Chinese e-commerce platform JD.com in 28 seconds after the sales started on Friday, beating the 30 seconds it took for strong competitor Apple's iPhone 12.
Data from Alibaba-backed Tmall showed that nearly 5 million consumers were browsing the phone in Huawei's flagship store on Tmall after the launch event on Thursday night. During the seven days prior to the launch, the number of searches involving words such as Huawei Mate 40 on Tmall exceeded 1 million, according to the platform.
"Huawei's biggest challenge is not Apple, but how many Mate 40 series phones it can produce amid the US chip ban, which will directly affect Huawei's performance in the second half," the industry insider said.