Shanghai tops Chinese cities in consumer spending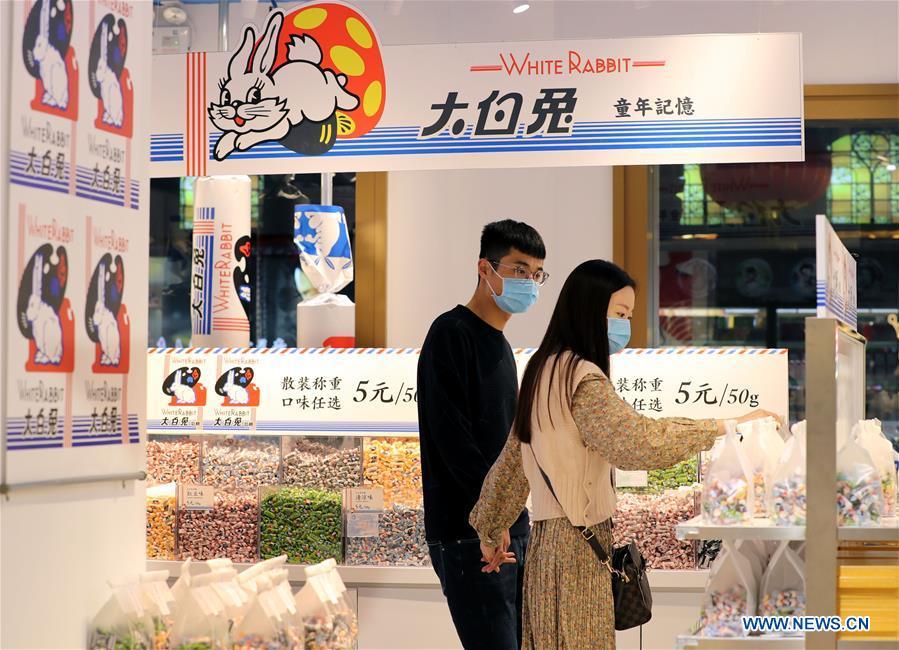 People shop at a White Rabbit candy franchise shop at Yuyuan Garden in Shanghai, East China, on Oct 8, 2020. (Photo: Xinhua)
Shanghai tops 35 major Chinese cities in consumption expenditures per capita in 2019, with 45,605 yuan ($6781.46) spent, followed by the three other first-tier cities of Shenzhen, Beijing and Guangzhou. Seventeen cities have personally spent over 30,000 yuan on average, and most of them are from economically developed coastal regions in the east, according to financial media Yicai.com.
The consumption capability of Shanghai has seen rapid growth year-on-year, with its expenditures per capita up 5.2 percent from 2018, and the city also represents the highest personal disposable income in China, which registered 69,442 yuan, an increase of 8.2 percent yearly.
The residents' expenditures in Shenzhen and Beijing both exceeded 43,000 yuan in 2019, and Guangzhou ranked fourth with 41,999 yuan personally spent on average. As Yicai.com analyzed, the southern city's catering industry remains vigorous, and local residents generate the highest dining expenses per capita in China for many consecutive years.
Hangzhou, the Chinese e-commerce hub and headquarters of fin-tech heavyweight Alibaba, took fifth place in terms of consumption expenditures per capita among 35 Chinese cities. Driven by the robust digital economy, Hangzhou's personal consumption expenses hit 40,016 yuan in 2019.
Changsha, the only central city on the top 10 list, ranked ninth with consumption expenditures per capita hitting 36,158 yuan.
Yicai.com also ranked the "per capita consumption rate" among 35 cities, which means the ratio of per capita consumption expenditures to per capita GDP. Wenzhou in Zhejiang province took first place, while Harbin, Shenyang in Northeast, Tianjin and Shijiazhuang in North won the top five positions.
With relatively low housing prices in northeastern China, residents are willing to spend more of their income on daily consumption. In contrast, higher housing prices in some places will restrict the amount of money people spend on daily necessities, Yicai.com noted.
Cai Fang, vice-president of the Chinese Academy of Social Science, said on a forum of Chinese new urbanization held in Tsinghua University, that improving the consumption level of rural residents turned out to have the biggest potential to boost Chinese economic growth, as about 40 percent of rural residents accounted for only 22 percent of household consumption, Yicai.com reported.
Besides, Cai also considered social consumption as one of the strongest drivers of the Chinese economy. According to his analysis, China's GDP contributed 16.3 percent to the global amount, while the country's consumption capability accounted for 12.1 percent of the world's total. "There are still 4 percentage points of potential consumption to be tapped if the two figures reach the same level," he said.
China's consumption expenditure per capita stood at 21,559 yuan in 2019, up by 8.6 percent in nominal terms year-on-year, or 5.5 percent after deducting the price factor. As the main stimulus for economic growth, consumption spending contributed 57.8 percent to GDP growth last year.