US stocks end lower amid concerns about global trade
NEW YORK, May 9 (Xinhua) - US stocks closed lower on Thursday, as investors have been keeping an eye on developments in global trade.
The Dow Jones Industrial Average fell 138.97 points, or 0.54 percent, to 25,828.36. The S&P 500 decreased 8.70 points, or 0.30 percent, to 2,870.72. The Nasdaq Composite Index fell 32.73 points, or 0.41 percent, to 7,910.59.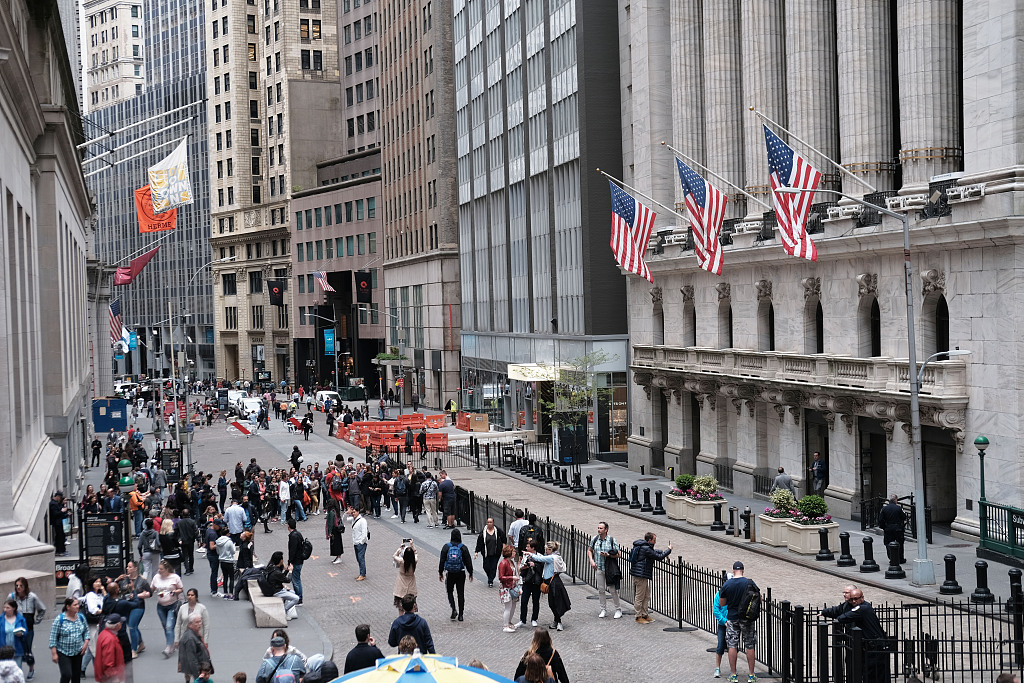 People walk outside of the New York stock Exchange (NYSE) on May 6, 2019 in New York City.(Photo: VCG)
Nine of the 11 primary S&P 500 sectors traded lower around market close, with the materials sector down over 0.8 percent, leading the losers.
A majority of the 30 blue-chip stocks in the Dow extended losses, with shares of US manufacturing giant 3M falling nearly 1.9 percent, among the worst performers.
Shares of Intel declined over 5.3 percent, after the US chip manufacturer's management had given a downbeat three-year outlook.
The company expected a growth of "single digit" percentage range in both revenue and earnings per share over the next three years, due to weakening flat PC chip sales.
Shares of Chevron rose over 3.1 percent, after the US energy giant decided not to vie for the acquisition of Anadarko Petroleum, as the latter showed more interest in its rival Occidental Petroleum.
On the economic front, the US international trade deficit in goods and services rose to 50 billion US dollars in March, up 0.7 billion dollars compared with February.
The March increase reflected an increase in the goods deficit and a decrease in the services surplus, the US Census Bureau said Thursday.
US jobless claims fell last week and unemployment rate was little changed in late April, said the US Department of Labor on Thursday.
In the week ending May 4, the number of people who applied for jobless benefits dropped to 228,000, a slight decrease of 2,000 from the previous week.
The advance seasonally adjusted insured unemployment rate was 1.2 percent for the week ending April 27, unchanged from that of the previous week.