BRI aids decade-long African transformation: expert
Global Times
1655903777000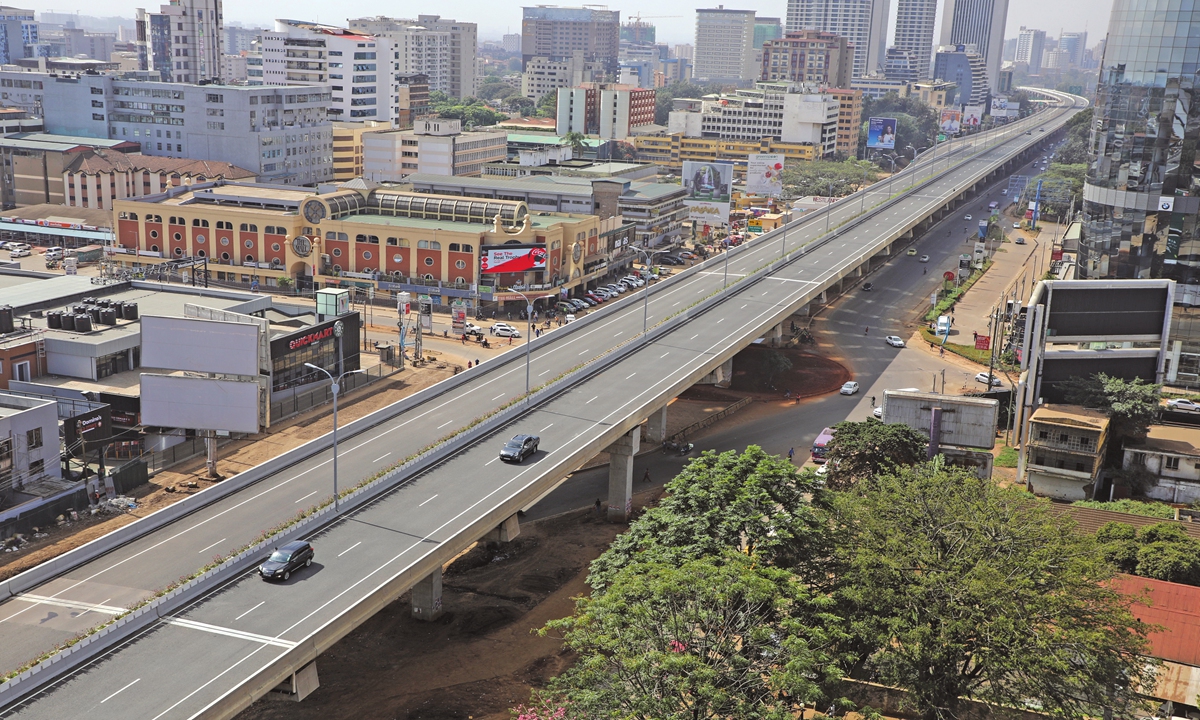 Editor's Note:
In 2013, Chinese President Xi Jinping put forward the "Belt and Road Initiative" (BRI), aiming at building a new platform for international cooperation and creating new momentum for shared development. Since then, the BRI, along with other multilateral initiatives launched by China, have created impetus and stability for global development, with Africa being a vital component of the initiative that has helped tap the continent's growth potential. The Global Times (GT) spoke with Nicholas Dweh Nimley (Nimley), a researcher scholar on China-Africa strategic bilateral and multilateral cooperation who is also the chief editor of NEWCOM Television, sharing his view on how BRI has facilitated regional growth in the past decade.
This is the first in a series scoping the views of foreign experts on the remarkable contribution made by the BRI and China - the world's second-largest economy - to global development over the past 10 years.
GT:How do you evaluate the implementation of China-proposed Belt and Road Initiative (BRI) in Africa over the past 10 years?
Nimley: BRI seeks to connect Asia with Africa and Europe via land and maritime networks with the aim of improving regional integration, increasing trade and stimulating economic growth. The BRI cooperation has transformed the fate of the continent of Africa through infrastructure development, trade and created thousands of jobs for Africans. It conveys a message of hope, and brings China closer to the people of Africa and boost cultural exchanges.
I think the BRI is giving Africa the development it needs and also establishing strong partnership through trade.
Since the implementation of BRI, a large number of key cooperation projects between China and Africa are now up and running, delivering concrete benefits. In recent years, under the BRI, a number of transportation projects have been completed and opened to traffic, including the Addis Ababa-Djibouti Railway, the Mombasa-Nairobi Standard Gauge Railway in Kenya, and the first and second phases of the Nigeria Railway Modernization Project. Projects such as the Doraleh Multi-Purpose Port in Djibouti and the Lome Container Terminal in Togo have also been successful. These projects have played an important role in boosting regional connectivity and integration.
Despite the impact of COVID-19, China has maintained its position as Africa's largest trade partner for 12 consecutive years. The direct investments in Africa from China remain steady. Over 1,100 cooperation projects keep running, contributing to the economic recovery of Africa. Moreover, China-Africa cooperation in new areas such as digital economy, aerospace, clean energy and new infrastructure are also scaling up. 
The friendly relations between the continent of Africa and China are gaining more trust on a daily basis. We all know that through BRI, China and African countries are equal in terms of decision making and no single country can dominate. Africa sees China as a partner for development.
GT: How do you evaluate the economic and trade cooperation between China and African countries, especially with Liberia, in recent years?
Nimley: China and African countries have strong trade and economic cooperation, despite the pandemic. Both sides have been a major source of imports with an increase in bilateral trade in 2021 to have exceeded $250 billion, an increase of 35 percent from 2020. Some Africans have established enterprises in China, and China is also a major export destination for crude and beef products from Africa.
The two sides have witnessed enhanced cooperation under the framework of the Asian Infrastructure Investment Bank, which is intended to promote infrastructure building and sustainable development. China also has carried out a zero-tariff treatment for 97 percent of goods from African Least Developed Countries, and has over the years welcomed the participation of African companies in China International Import Export and China Agricultural Trade Fair.
GT: In what areas do you think China and Africa could strengthen cooperation in the future?
Nimley: China and Africa could further strengthen cooperation in the future with regard to renewable energy. As we all know, China, being one of the leaders globally with regard to renewable energy, and a major driver of the production of solar lights and solar panels, will be a bigger player in helping the people of Africa to address its power (electricity) challenges.
In order to make the sustainable development and climate goal a success story, the availability of renewable energy must be ensured. With China having the capacity and technical "know-how" in terms of production of renewable materials, Africa and China should deepen cooperation in making renewable energy available for all.
GT: Foreign outlets have been smearing BRI and China's economic ties with Africa, calling it a "debt trap," what is your view on such claim?
Nimley: Foreign media's smearing against China-Africa trade and economic cooperation in my mind is about jealousy, to see a strong partnership that is bringing development you didn't expect. Despite this slandering, it is clear that what China is doing, and this is something the Western countries failed to do for the people of Africa.
Trade and economic cooperation is not a "debt trap," instead, it is about giving African countries the kind of development they have long prayed for. China has never acted as a proselytizer, nor attached political strings; and it never interfered in domestic affairs of African countries nor imposed their will upon Africa.
GT: What is your view on infrastructure initiatives proposed by Western economies, such as the US' B3W initiative and EU's Global Gateway scheme?
Nimley: China and African countries have already forged a stronger partnership through the Forum on China-Africa Cooperation. The US' B3W initiative and the EU's Global Gateway plans are already late upon arrival, because Africans already know the genuine purpose of the Europeans and the Americans. Africans know what they want, and they cannot be brainwashed by Europeans and Americans like in the past.
There are no precondition clauses attached between China and African countries, instead mutual agreement in the spirit of coordination and cooperation is at the core. These levels of win-win cooperation are gradually transforming the face of the continent, building human resource capabilities and enhancing infrastructure deficit.
GT: How should China and Africa join hands to tackle rising geopolitical tensions and other uncertainties?
Nimley: The Russia-Ukraine conflict is affecting African countries greatly in terms of wheat acquisition, fertilizers and petrol. Most African countries look to Ukraine and Russia for wheat, fertilizers and petrol. And with this crisis, there has also been a hike in the prices of basic commodities including petrol because of the supply chain snags.
China and Africa should face the geopolitical instability by deepening cooperation in all areas, especially agriculture and technology, knowledge sharing and transfer and infrastructure development. Africa needs the infrastructure and technology that will enable it to become an equal player at the table with the West, and to have these, China's partnership is needed.
GT: After China and Liberia signed a maritime cooperation agreement, what results have been achieved by both sides?
Nimley: Results that have been achieved by both sides include the ongoing promotion of maritime and port development, full and effective use of the fleets of the two countries to meet foreign trade demands, and safety of vessels, crew and cargo. Liberian flag vessels are receiving preferential rates for tonnage dues when visiting any port in China. The preferential rate savings equates to a 28 percent discount for each vessel's tonnage dues. This points to the effectiveness of the agreement.