Health awareness lifts demand for dairy products
People's Daily
1591758162000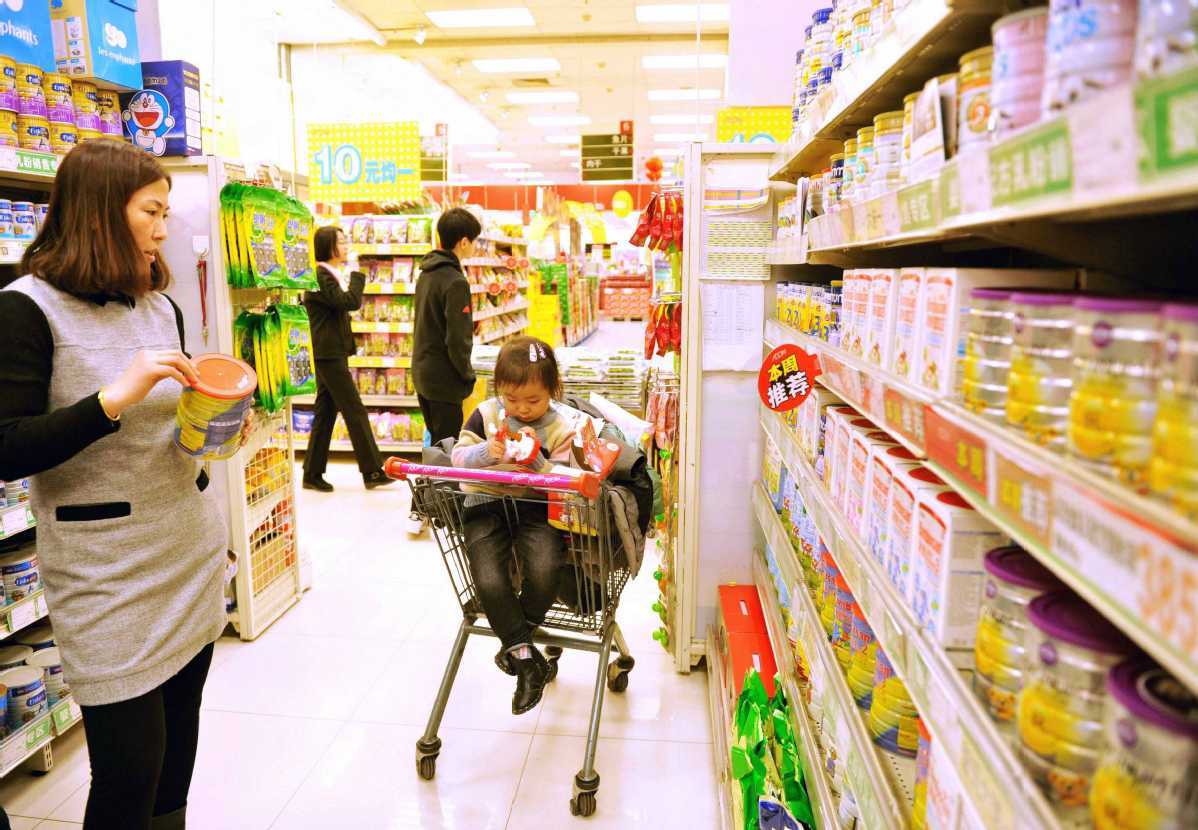 Consumers check out infant and toddler formulas at a supermarket in Qingdao, Shandong province. [Photo provided to China Daily]
The novel coronavirus outbreak has resulted in higher demand for dairy products in China as consumers believe the goods help enhance immunity, prompting domestic and foreign dairy makers to make further investments in the country.
The nutritional diet guidance released earlier by the National Health Commission and some medical experts in China said ample intake of dairy products could help improve one's immunity.
Dutch dairy producer Royal FrieslandCampina said the pandemic has not affected its production, the processing of milk and the supply of products.
More Chinese consumers chose dairy products as part of their daily diet, and this has led to growth in related products, which has benefited the whole dairy industry.
"The shipping of dairy products from the Netherlands to China has been affected to some extent, but we started monitoring the situation at an early stage and considered multiple ways of transportation. Now, we have an ample supply of dairy products in China," said Yang Guochao, senior vice-president of FrieslandCampina in China.
"We will continue to increase investment in the China market, diversify our portfolio, and develop more products that cater to the demand of Chinese customers. Consumer behaviors and preferences have changed a lot due to the epidemic. We will better utilize big data and promote online sales," Yang said.
In the first quarter, the company saw double-digit growth on major domestic and cross-border e-commerce platforms for Friso, its high-end infant and toddler formula brand. The company did not disclose specific figures on sales of Friso.
Separately, a new report found that Chinese residents still consume low volumes of dairy products, and there is big room for growth. The report found the milk quotient of Chinese consumers is 62.7 out of 100 points this year, two points higher than last year's reading.
Since the outbreak of the disease earlier this year, Chinese consumers have shown a higher awareness in staying healthy.
More than 96 percent out of the 4400 surveyed consumers felt eating more dairy products could help enhance immunity. Nearly half of them now eat more varieties of dairy products, and they have retained the daily habit of drinking enough milk.
Chinese adults should consume 300 grams of milk or the same quantity of dairy products every day, according to the Chinese Dietary Guidelines.
But many people are not aware of this advisory.
Per capita milk consumption volume in China is less than one third of the world average, and less than half of the Asian average.
Inner Mongolia Yili Industrial Group Co Ltd, China's largest dairy maker, achieved sales revenue of 20.54 billion yuan ($2.88 billion) in the first quarter, down 10.98 percent year-on-year. During the period, its net profit reached 1.37 billion yuan, declining 37.27 percent year-on-year, its earnings report said.
Yili said its market share continued to grow in the first quarter, especially in the rapid sales of its milk products even though the contagion limited some physical shopping and gift-giving, which hampered its growth.
This year, Yili aims to achieve sales revenue of 97 billion yuan, growing 7.5 percent over last year's level. It said sales are expected to improve on a quarterly basis. The dairy maker will continue to diversify its sales channels and expand overseas.
"The negative influence from the epidemic is short-term. In the long-term, dairy products and healthy food have rosy growth prospects in China," a research report of Huachuang Securities said.
From January to April, China imported 1.13 million metric tons of dairy products, up 2 percent year-on-year. In that period, the imported value of dairy products reached 30.39 billion yuan, climbing 10.2 percent year-on-year, data from the General Administration of Customs showed.