US business community warns tariffs on Chinese imports could backfire
WASHINGTON, Aug. 7 -- US business leaders and scholars have warned that Washington's tariffs on additional Chinese imports could backfire.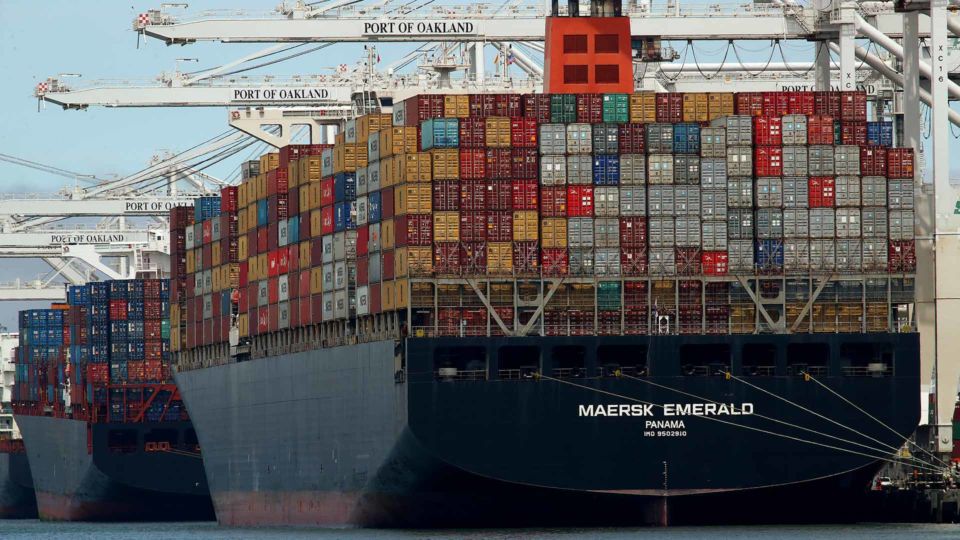 The container ship Maersk Emerald is unloaded at the Port of Oakland Thursday, July 12, 2018, in Oakland, Calif. (AP Photo/Ben Margot)
Despite concerns by US businesses and industries, the Trump administration said Tuesday that it will begin slapping extra 25 percent tariffs on another $16 billion in Chinese imports in two weeks, further risking an escalation of the ongoing trade tensions.
"Whether you're a farmer, a fisherman, or a factory worker one thing is clear - tariffs are counterproductive for long-term US economic success," Myron Brilliant, vice president for international affairs at the US Chamber of Commerce, said in a statement.
The tariffs, set to take effect on August 23, come after the Trump administration imposed additional 25 percent tariffs on $34 billion in Chinese goods in early July, both criticized as protectionist measures under the "America First" policy.
With extra tariffs on $50 billion worth of Chinese products, there is a continuing absence of a coherent path forward to address the trade dispute between the United States and China, Brilliant said, urging the two sides to "get back to the negotiating table to work towards solutions."
The new round of tariffs targets 279 product lines, mainly chemicals and electronic parts. The US Trade Representative's office only removed five items from the original list after a 46-day public comment and review period.
The US Semiconductor Industry Association (SIA) was among those disappointed about the tariffs.
"We have made the case to the administration, in the strongest possible terms, that tariffs imposed on semiconductors imported from China will hurt America's chipmakers, not China's," SIA President John Neuffer said in a statement Tuesday.
Matthew Shay, president and CEO of the National Retail Federation, described the latest move by the Trump administration as "another step toward throwing away the benefits of tax reform" and "a huge risk for American consumers and workers with no endgame in sight."
"It's time to stop digging a deeper hole while we can still climb out," Shay said.
"The trade conflict with China continues to escalate and hurt American small businesses and consumers," Sage Chandler of the Consumer Technology Association said in a statement issued Monday.
"Under the threat of tariffs, the US is benching businesses and encouraging the Chinese to import goods from America's foreign competitors," Chandler said. "Tariffs are a recipe for disaster - giving a leg up to America's foreign competitors."
According to a study released Tuesday by the US Federal Reserve Bank of Atlanta, Washington-fueled trade tensions with other economies have prompted almost a fifth of US businesses including about 30 percent of manufacturers to review their capital spending plans.
"Retaliatory tariff hikes by trading partners can also affect domestic investment by curtailing the demand for US exports," Atlanta Fed Research Director David Altig wrote on a blog posted on the bank's website.
"An uncertain outlook for trade policy can cause firms in all industries to delay investments while they wait to see how trade policy disputes unfold," he said.
The US economy grew at an annual rate of 4.1 percent in the second quarter of 2018, which pundits believe is likely to slow down in the second half of the year, as fiscal stimulus fades and the Federal Reserve further increases interest rates.
The Trump administration has the wrong view on trade, and its protectionist measures will take their toll on American manufacturers, farmers and consumers, Donald J. Boudreaux, a professor of economics at George Mason University, told Xinhua in a recent interview.
A huge headwind on the country's economic growth is the Trump administration's trade policy, said Boudreaux, warning that if it continues "as it's happening now, not only will it slow the economic growth, it might actually reverse it."
"The bulk of the bullets are aimed not at foreigners. They are aimed at fellow Americans," the economist said.