Key parks bear task of implementing 'early arrangement' policies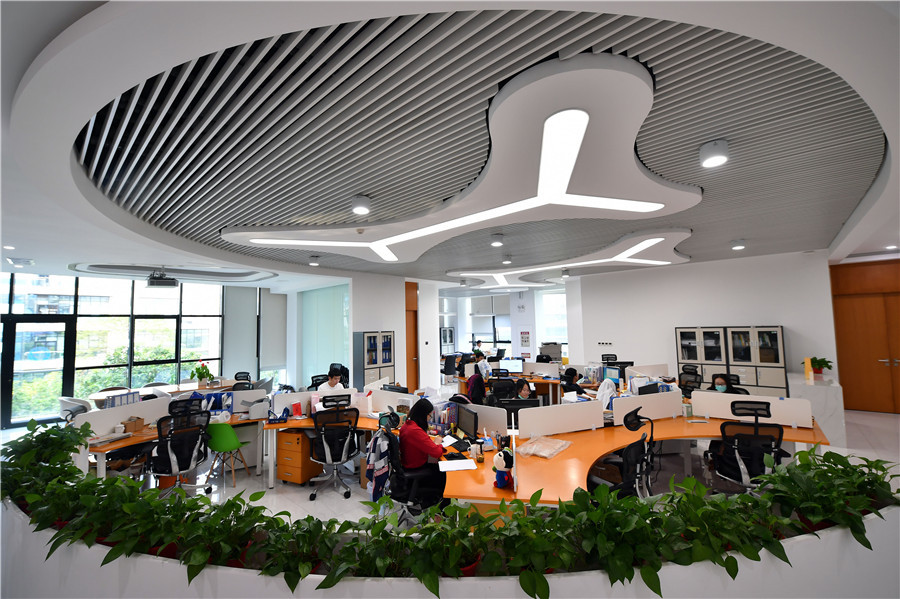 Employees of a company work at Hainan Resort Software Community in Chengmai county on April 1. (Photo: Xinhua)
Ten key parks in Hainan province were granted greater rights of independent development earlier this month in a bid to facilitate a legal, international and convenient business environment as well as promote the construction of Hainan Free Trade Port, according to a decision by the Standing Committee of the Hainan Provincial People's Congress.
The key parks are the Yangpu Economic Development Zone, Boao Lecheng International Medical Tourism Pilot Zone, Haikou Jiangdong New District, Haikou National High-tech Industrial Development Zone, Haikou Comprehensive Bonded Zone, Sanya Yazhou Bay Science and Technology City, Sanya Central Business District, Wenchang International Aerospace City, Lingshui Li'an International Education Innovation Pilot Zone and Hainan Resort Software Community.
In an interpretation of the new decision, the congress said that the 10 parks will bear the tasks of implementing the "early arrangement" policies of Hainan Free Trade Port, and will be model areas and pilot zones to promote the port's construction.
The decision states that the key parks establish statutory bodies which will be responsible for their comprehensive coordination, development and construction, operational management, industrial development, investment promotion, institutional innovation and enterprise services.
Chen Xiaohua, deputy director of the Hainan Comprehensive Deepening Reform Committee, said Hainan has decided to make the key parks main places to undertake free trade port policies and be incubators for the construction of the Hainan Free Trade Port in the province.
Though having different focuses, the 10 parks will highlight the development of Hainan's three leading industries-tourism, modern services and high-tech-according to provincial authorities.
Hainan's provincial government said that as of the end of 2019, more than 19,500 companies had settled in its 25 industrial parks.
Covering less than 1 percent of the island province's land area, these companies contributed to 33.9 percent of Hainan's total tax revenue last year.