First ever commercial US grown rice unloaded in China
Global Times
1603888013000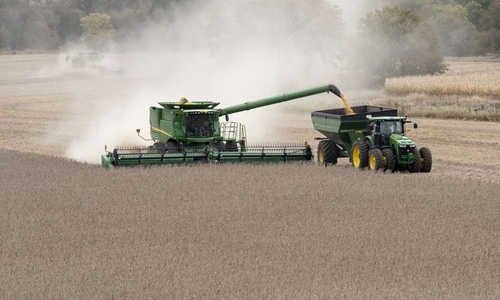 The first commercially grown US rice has been unloaded at China's ports despite disruptions caused by the COVID-19 pandemic, as well as the fraying of China-US ties, signifying the determination of Beijing to implement the phase one trade deal and the key role that interdependent trade ties have been playing as a stabilizer, experts said.
The US rice shipment to China cleared customs this week, US Secretary of Agriculture Sonny Perdue tweeted on Tuesday.
"China is the world's top rice consumer, expected to build on this sale much more in the future. This is a good first step to what we hope to be many more shipments of high-quality, nutritious and affordable US rice," Perdue said.
The premium medium grain Calrose rice was grown in California and sold by ADM Rice Inc to a private importer under the "Sungiven" brand for retail distribution, according to the USA Rice Federation.
The rice was cleared at the port of Xiamen, East China's Fujian Province, on Tuesday and is now in the hands of the importers, Washington DC-based industry media Agri-Pulse reported on Tuesday, citing sources.
China's imports of US rice is a gesture to show that the nation is expanding the variety of US agricultural products it imports, according to the phase one deal, Jiao Shanwei, editor-in-chief of cngrain.com, a website specializing in grain news, told the Global Times on Wednesday.
China is likely to import more soybeans, corn, sorghum and wheat, especially high-quality wheat from the US in the future, Jiao said.
In recent years, China's cotton production has been insufficient and there is rising domestic demand. Since the US has high-quality cotton and is also the world's largest cotton exporter, cotton's import prospects are promising, China's National Food and Strategic Reserves Administration told the Global Times.
"We are pleased to see the first shipment to China of US-grown rice take place following the signing of the US-China phase one trade deal in January, calling for US commodity purchases, including rice," said Bobby Hanks, chair of both USA Rice and the USA Rice International Trade Policy Committee, according to the website of USA Rice.
"We hope to see more buyers, both private and government, step forward to purchase US rice. As a reliable supplier with high-quality long, medium, and short grain, the US is well-positioned to help fill some of the import demand in China moving forward."
With this move to import US rice, China's sincerity and determination in implementing the phase one deal can be clearly discerned, especially amid the difficulties caused by the pandemic.
It is undeniable that China-US trade and economic ties still act as key stabilizers in maintaining bilateral relations, experts said.
The US is a major agricultural exporter, and agriculture is an important area to balance China-US trade, Liu Ying, research fellow at the Chongyang Institute for Financial Studies at Renmin University of China in Beijing, told the Global Times on Wednesday.
US soybean sales for marketing year 2021 are off to the strongest start in history with outstanding sales to China double 2017 levels, and sales of sorghum from January to August totaled $617 million, up from $561 million for the same period in 2017, according to US official data.
China's total imports from the US skyrocketed 24.7 percent year-on-year to $13.2 billion in September, the highest since August 2018, Chinese customs data showed earlier this month.
"The interdependent and complementary trade and economic relationship between China and the US has become more evident during the global health crisis. Both countries have encountered downward economic pressure under these circumstances, but their trade has maintained momentum," said Liu.
Apart from traditional trade, investment has also shown optimistic signs with more and more Chinese companies seeking IPOs in the US, according to Liu.
In a joint statement on Friday, the Office of the US Trade Representative and the US Department of Agriculture said that the phase one trade deal had delivered "historic" results for US agriculture, pointing to progress in the implementation of the deal.
China is the world's largest rice producer and consumer, and second only to the Philippines in global rice imports. Its neighboring countries account for the bulk of its import sources. These suppliers include Southeast Asian countries like Thailand and Cambodia, as well as Pakistan.
China produces more than 100 million tons of rice each year, but its rice imports are much smaller. Customs data showed that in the January-September period, rice imports stood at 1.66 million tons, compared with 1.7 million tons a year earlier.
From a pure market perspective, however, US rice has little advantage over rice from Southeast Asian countries, which mainly target the high-end market in China, Jiao said, and that's unlikely to change.
Analysts added that China can feed itself even without rice imports, so there's no inelastic demand for rice imports from the US.