B&R offers opportunities for Singaporean firms that leverage strengths
Global Times
1511917871000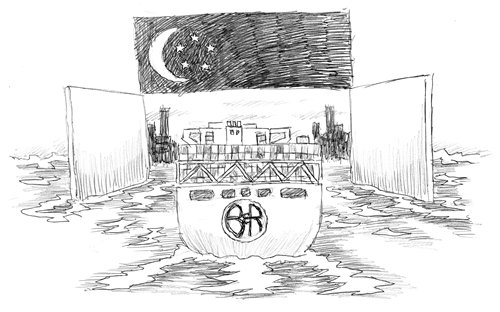 Illustration: Peter C. Espina/GT
The China-proposed Belt and Road (B&R) initiative is an ambitious undertaking that has the potential to reshape the global economy and transform world trade. Singapore, a key node along the Maritime Silk Road, is well-positioned to advance the B&R initiative by bridging China and other countries along the route. Recognizing its strategic location and unique position, Singapore has been proactive in seeking B&R opportunities.
The government has encouraged Singapore enterprises to engage in this physical connectivity vision, but many are waiting on the sidelines. Citing the lack of details, they are either unsure of how they can be involved meaningfully or doubt that this initiative is relevant for organizations not in the business of building airports and roads. Others are concerned about the risk-return trade-offs of such investments, which have long payback periods.
These concerns are not without merit; it is important that organizations conduct proper due diligence and risk assessments before embarking on any venture. However, it is also critical that businesses, regardless of their size and expertise, proactively seek B&R opportunities or risk being left behind.
The world will become smaller with the B&R. This megaproject is less about the hard physical aspects of infrastructure than the connecting of businesses and populations. Instead of focusing on pure infrastructure ventures, Singapore companies need to consider the business opportunities that better-connected countries along the routes can offer. The spillover effect is simply too large to ignore.
Increasingly, organizations need to view the B&R development as a business enabler amid an aging population and increased youth migration. Demographics and urbanization in Asia are expected to transform consumption patterns. This development will change the way goods and services are delivered as innovation takes shape.
While the next phase of global aging will be driven by the rapid graying of key Asian economies, South Asia's youth population will account for about 30 percent of the global workforce expansion by 2020.
For Singapore companies to maximize opportunities offered by the B&R initiative and demographic trends, there are two key elements: partnerships and competitive differentiation. They call for both collaboration and strategic competition.
Businesses need to first understand foreign markets and their local needs, and to gain access to financing solutions. Companies can work with international banks with the right capabilities, including an extensive network and in-depth local insights.
Besides working with the right partners, companies need to know which battles to pick when exploring B&R opportunities. Instead of competing head-on with Chinese companies with a greater advantage in certain industries, Singapore businesses should focus on areas where they are stronger. That means these companies are better off competing in areas related to intellectual capital and leaving capital-intensive construction-type projects to Chinese companies, given their stronger capabilities in these areas.
Singapore companies are not only well-placed to offer capabilities in the planning, execution, and operation of infrastructure assets, but they can also provide infrastructure-related consultancy services. These include the designing of policy frameworks and structuring of projects to ensure appropriate returns on infrastructure investments.
China's plan of a digital Silk Road, which requires the growth of telecoms infrastructure and networks, will also provide opportunities for e-commerce and digital businesses. This is in line with Singapore's aim to tap into the flourishing digital economy for regional growth as it assumes the chairmanship of the Association of Southeast Asian Nations (ASEAN) in 2018.
It would be opportune for Singapore exporters to explore digital opportunities and embed new technologies into their business model.
Singapore's goals for greater ASEAN integration are also reflected in its B&R support. Singapore has committed about S$90 billion ($66.9 billion) worth of financing services for B&R projects across the region. Given that many financial institutions have key operations in Singapore, there lies an available pool of institutional investors to complement the banking sector in funding further B&R investments.
Singapore's financial capabilities will make it an important partner for China's overseas infrastructure plans. Singapore's yuan capabilities will provide alternative products to major-currency funding options. Its role as a key yuan gateway into ASEAN is critical for the regional development of the offshore yuan ecosystem and deepening of the region's bond market, particularly yuan-denominated debt. Given its financial hub and shipping center status, Singapore can also broker both capital and trade deals between China and ASEAN.
All these bode well for Singapore businesses. As long as they are able to identify their niche and strengths, work with the right financial and business professionals, and leverage Singapore's well-developed financial system, the B&R initiative will present more opportunities than can be imagined. The road ahead offers many opportunities for those with an open attitude and a global vision.