Internet giants on prowl for acquisitions
Global Times
1513192713000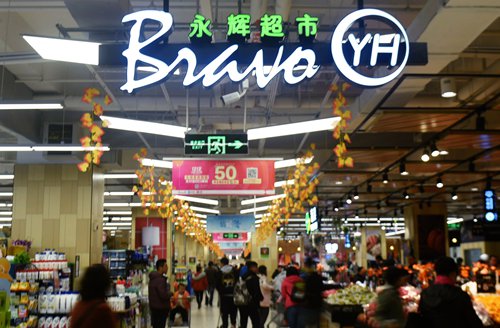 Customers go shopping at a branch of Yonghui Superstores in Hangzhou, East China's Zhejiang Province. Photo: IC
The nation's top Internet companies - Baidu Inc, Alibaba Group Holding and Tencent Holdings, collectively known as BAT - are taking their competition to another level by seeking investments to supplement their core businesses. But experts warned that while acquisitions might enhance the individual competence of the Internet conglomerates, they might nip many domestic start-ups in the bud.

The most recent investment related to the BAT trio is Tencent's proposal to buy a 5 percent stake in Yonghui Superstores Co, a Fujian Province-based supermarket store operator. The move was officially announced in a statement from the board of directors of Yonghui Superstores on Tuesday.

When contacted by the Global Times on Tuesday, Tencent noted that apart from information disclosed by Yonghui Superstores, it did not have further comment to make on the issue.

Yonghui Superstores suspended stock trading on Monday and Tuesday, while Tencent's shares fell by 3.01 percent on Tuesday in the Hong Kong bourse.

Some overseas commentators have been critical of Tencent's investment. Reuters Breakingviews, for example, published a comment earlier this month saying that Tencent's strategy as regards Yonghui "makes little strategic sense"

However, Li Yi, a research fellow at the Internet Research Center under the Shanghai Academy of Social Sciences, praised Tencent's moves as being "pragmatic, like always."

"Alibaba has made some attempts to explore social network apps, an area that is normally dominated by Tencent. So Tencent needs to 'strike back' by trying out something that Alibaba is good at, such as the integration between online and offline retail," Li told the Global Times on Tuesday.

Liu Dingding, an independent technology analyst, told the Global Times on Tuesday that Tencent's investment in Yonghui is not just symbolic.

"Tencent's big data resources and huge consumer base can perfectly match Yonghui supermarkets' operation. For example, Tencent's WeChat mobile payment system can be promoted in the supermarkets. This will pose a challenge for Alibaba's offline retail strategies, which are aimed at boosting the use of Alipay, Alibaba's online payment tool," Liu noted.

According to Liu, investment in Yonghui is just one example of Tencent's success in choosing investment partners that can mesh perfectly with its own businesses.

"Their investment in car-hailing app Didi Chuxing, for example, has done much to create demand for WeChat online payments. Considering other investment targets that proved to be successful, such as JD.com Inc and meituan.com (a food delivery website), Tencent can be said to be very clever in its investment strategies," he noted.

A report from sohu.com in June showed that Tencent had invested in 23 companies in the first half of 2017, while Alibaba and Baidu had invested in five and six, respectively. All three have put money into companies in the transportation and hardware areas, but Tencent showed strong interest in cultural and entertainment companies.

"Except for areas forbidden by law, companies in any industry might get capital backing from the trio, or at least from Alibaba and Tencent," Li said.

According to Li, the broad investment range of Internet companies will open new doors for traditional industries by pushing them to undertake reforms.

"For example, facing the rise of mobile payments, traditional payment companies such as China UnionPay have been prompted to launch reforms like rolling out more customer discounts," he said.

But Li also warned that there may be a dark side to the Internet giants' investment drive. The massive expansion of the BAT trio has created something of a monopoly, which has strangled many start-ups in China.

Chinese start-ups "can hardly compete with companies backed by BAT capital, nor can they easily get capital support from other sources," he said. Many have no other option than to be acquired or invested in by one of the BAT trio.

For example, several bike-sharing companies (including Bluegogo) failed amid fierce competition from Mobike and ofo, which are backed by Tencent and Alibaba, respectively.

An employee from domestic e-commerce website vip.com told the Global Times on Tuesday that many vip.com employees were "disappointed" that the firm didn't reach an acquisition deal with Tencent when that chance arose in the past.

"Many domestic start-ups are eager to be controlled by a BAT company instead of having to grow up on their own. I think this trend runs counter to industrial diversity," Li said.