China's coal imports from Australia expected to be stable this year
Global Times
1602655544000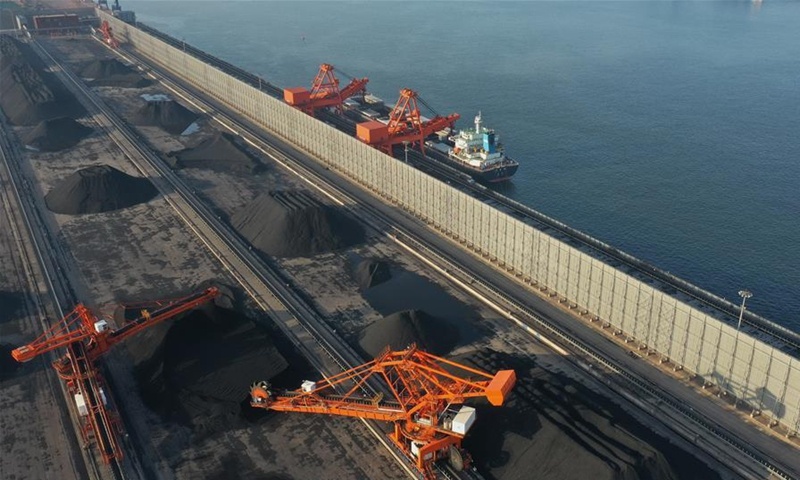 Aerial photo taken on May 22, 2020 shows a bulk carrier loading cargoes at a newly built coal berth of Caofeidian Port in Tangshan, north China's Hebei Province. (Xinhua/Yang Shiyao)
China coal imports from Australia are expected to remain unchanged this year compared with 2019, despite media reports that Australian coal would face restrictions amid current frictions between the two countries, a coal analyst told the Global Times.
China imported 70.43 million tons of coal from Australia from January to August, accounting for 92 percent of last year's coal imports from the country. Therefore, Australian coal exports to China could be seen stable this year, but there are so many political uncertainties even though Australian coal has some economic advantages, Ren Huiyun, a coal analyst with SCI99, told the Global Times on Wednesday.
"It is a wait-and-see market now. Because of sufficient inventories of many coal-consuming enterprises, they can hedge against external uncertainties in the short run, "said Ren.
Australia has been China's second-largest coal supplier, exporting around 76.55 million tons of coal to China last year, following Indonesia, she noted.
Coal-power plants established along southeast coast regions mainly consume Australian coal. But they can also choose other coal suppliers from China's domestic coal trade center Qinhuangdao, North China's Hebei Province, said Ren.
But she noted some power plants set parameters of electricity-generating equipment according to Australian coal, meaning China needs to buy coal from the country.
In addition, some domestic enterprises have even built plants in Australia, and then transport coal products to domestic markets, a veteran industry expert told the Global Times on Tuesday.
Analysts said China will not halt buying coal from Australia, but it may push up use of domestic coal. This year, Chinese coal prices have seen a rising trend due to some restrictions aimed at adjusting China's energy mix and protecting the environment.
China Taiyuan coal transaction price index stood at 126.45 points on Monday, up 0.43 percent week-on-week, reflecting the coal prices in the main production areas of China. Its thermal coal transaction price index came to 113.12 points, up 0.75 percent week-on-week, a third increase in a row since September 14.
Currently, the price of Qinhuangdao port's 5500 kcal/kg coal has increased to 615 yuan ($91.25) per ton, an increase of 60 yuan per ton from early September.
Before the reported "Australian coal ban", prices of Australian coal increased following Qinhuangdao coal prices. But now, Australian 5500 kcal/kg coal price has plummeted to $40 per ton for the FOB, about $3 per ton lower compared to the high price in September.
But domestic coal prices will not rise sharply though the country is to enter winter heating season, said Ren, noting that domestic coal producers particularly in Erdos, North China's Inner Mongolia, recently held several meetings on guaranteeing coal supply in winter.