Huawei launches new generation of smartphones in Kuwait
KUWAIT CITY, April 4 (Xinhua) -- Chinese technology and smartphone giant Huawei launched on Thursday the HUAWEI P30 Series, a new generation of smartphones, to Kuwaiti consumers.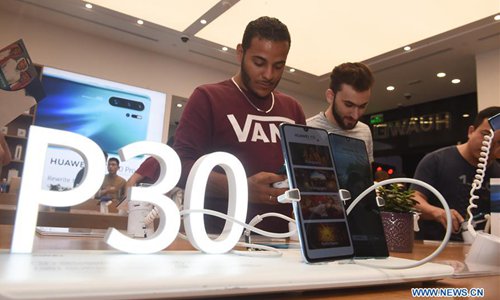 People try the Huawei P30 Series in Farwaniya Governorate, Kuwait, April 4, 2019. (Photo: Xinhua)
At the launch event held in the Avenues Mall in Farwaniya Governorate, the largest shopping mall of Kuwait, Huawei said it has worked to optimize the Huawei P30 series camera for Snapchat whose users will soon enjoy more experiences with the smartphone.
The advanced camera smartphones will bring people new photography experiences and take smartphone videography to another level, according to Huawei.
Mohammad Sofi, who works at a local bank, expressed his excitement to purchase the new Huawei smartphone.
"I'm a Huawei fan because it is easier and smaller, which make it easy to handle. Also, the camera is great where the zooming gets a closer picture," the 24-year-old man told Xinhua.
Huawei's camera captures amazingly clear and detailed photos, including colors and low-light shots, he said.
"It has an ultra-wide angle lens in the mix. And the quality of photos in dark settings is pretty exceptional," Sofi added.
Salem Ali, 28, who works at a Kuwaiti company, said Huawei is a great phone whose battery lasts longer.
"The phone has a great screen display, and the zoom is great," he noted.
For Loai Saeb, managing director of a Kuwaiti trading company, the Huawei phone caught his attention through its camera, the fingerprint in the screen and the colors, in addition to "the promotion that includes the smartwatch, airpods and a good warranty for VIP at a good price."