Despite Amazon, brick stores are not dead yet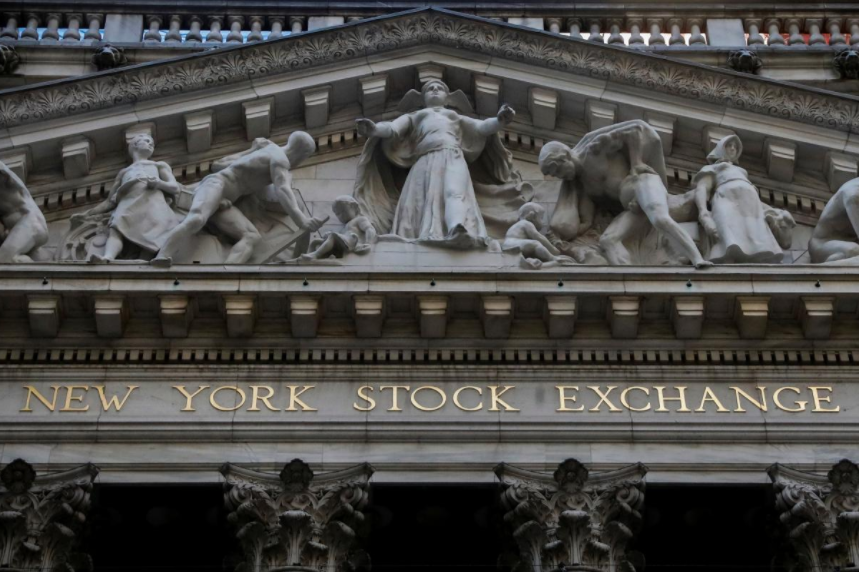 The front facade of the New York Stock Exchange (NYSE) is seen in New York, U.S., November 17, 2017. REUTERS/Brendan McDermid
Just in time for the Black Friday kick-off to holiday season shopping, stock market investors have been handed tools to bet on the decline of brick-and-mortar retail.
As of Friday, these tools were not yet for sale on Amazon.

An exchange-traded fund launched Thursday allows investors to bet on the decline of traditional retail and a second one doubles down by betting at the same time on the rise to supremacy of online sales.
The Decline of Retail Stores ETF and the Long Online Short Stores ETF are self-explanatory. The main index they track inversely, the equal-weighted Solactive-ProShares Bricks and Mortar Retail Store Index, is composed of 64 retailers including Barnes & Noble, Sears, Office Depot, Macy's and Walmart, which have chains of physical stores as well as online presence.
They are not the only or the first planning for a decimation of the retail sector at the hands of Amazon and other online retailers. Research firm Bespoke introduced its Death by Amazon Index, currently with 54 components, in 2012.
The trend to online shopping is not new, but with online taking only a fraction of all retail sales, the ETFs expect to capitalize on the long-term trend.
"Online penetration is about 10 percent right now so there is a long way ahead for the strategy in our opinion," said Michael Sapir, CEO of ProShare Advisors in Bethesda, Maryland.
"A minority of brick and mortar (retailers) will be able to make the transition and it is going to be expensive and painful."
So far this year, the S&P 500 retail index is up 20 percent but only half of its 29 components have had a positive price return. Amazon, up over 50 percent this year at $1,129.88, has alone added $192 billion in market capitalization in 2017. The full index has gained roughly $230 billion.
Glen Kacher, whose Light Street Capital Management hedge fund was up 53 percent from January to October, said he is
"shorting almost every retailer," betting their share prices
will fall.
Kacher said many big retailers have failed to adapt to changing customer preferences, lagging even some corner delis that now use technology that lets people buy their breakfast sandwiches and coffee in seconds with the tap of a finger.
"The retailing industry is going to be an apocalypse," he said, without identifying which retailers will go down in flames. "Anyone working in the consumer retailing industry ... should be training for a new job."
Reports of the death of brick and mortar retail could be mildly exaggerated, however.
Retail and food service sales in the United States during the first three quarters of 2017 totaled $4.78 trillion, with the $484.4 billion in September a monthly record high, according to U.S. government data.
About 164 million Americans plan to shop in the coming Thanksgiving weekend, including on Black Friday and Cyber Monday, according to the National Retail Federation.
Results from this week show the battle for consumers is far from lost at physical stores. Walmart, for instance, said third-quarter U.S. sales growth online and in-store was the strongest since 2009.
A combination of online presence and easy access for consumers known as 'click and mortar' will allow some names to survive by letting their customers browse all their options online while offering the convenience of a quick pickup of the product on their drive home.
Shares of Walmart touched a record high on Friday, as did those of Home Depot, which earlier in the week raised its full-year profit and sales forecasts.
They are one of two kinds of retailers that analysts said would be better able to weather the online retail storm. Size will matter, and with more than 5,000 U.S. stores at Walmart and over 2,200 Home Depots in North America, their distribution network will be a key lifeline.
"Walmart is transforming itself into a major competitor of Amazon," said Chad Morganlander, portfolio manager at Washington Crossing Advisors in Florham Park, New Jersey.
"Our belief is there will be some winners on brick and many online retailers will start looking more traditional."
The other retailers seen surviving are those in search of a small niche that will allow them to keep margins growing, countering the trend of ever-smaller margins online.
"Unless you know exactly what you're going to order and it is mass market, you don't go to Amazon," said Kim Forrest, senior equity research analyst at Fort Pitt Capital Group in Pittsburgh.
"Holiday shopping means meaningful gifts. If you're a good retailer you can take advantage of that."