US carmakers affected by trade war: Chinese commerce ministry
Global Times
1535646840000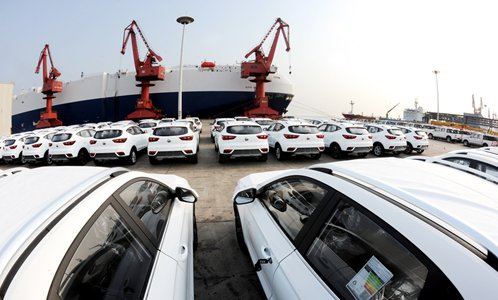 Cars to be exported are seen at a port in Lianyungang, East China's Jiangsu Province in April. (Photo: VCG)
US carmakers have been affected to "a certain extent" by the trade war the US has waged against China, as imported American cars now face a stiff tariff of 40 percent, a Chinese trade official said on Thursday.
The tariff is a result of rising trade tensions between the US and China, after the world's two largest economies earlier imposed a 25 percent tariff on each other's exports, said Gao Feng, spokesman for the Ministry of Commerce (MOFCOM).
China on July 1 lowered import tariffs on US cars from between 25 percent and 20 percent to 15 percent, according to Gao, and tariffs on auto parts ranging from 8 percent to 25 percent were lowered to 6 percent.
However, after the US imposed two batches of tariffs on July 6 and August 23 on $50 billion worth of Chinese goods exported to the US, China retaliated in kind. As a result, many US-made cars were included in China's retaliatory tariff list.
After China lowered its auto tariffs on July 1, imports of foreign-made cars that month surged to a single-month record, Gao said. But the 40 percent tariff has hit US car exports to China since then, Gao noted, without elaborating.
The Chinese market will always be open, and the US should solve economic and trade differences through dialogue, "not big sticks," Gao said.
Stiff headwinds
For US carmakers GM and Ford, the tariffs may have a limited impact since the vehicles that they export from the US, which are either high-end or are popular with a niche market, account for a much smaller proportion of sales compared with their models that are made in China, said Yale Zhang, head of Shanghai-based consultancy Automotive Foresight.
But other US automakers may not be so detached as they have a higher volume of exports to China, Zhang told the Global Times Thursday.
For example, the Jeep Grand Cherokee, a storied American sport-utility model which is owned by Fiat Chrysler Automobiles, is still manufactured in the US.
"The model is a highly lucrative one for the company, with tens of thousands of exports to China each year," said Zhang, noting that the 40-percent tariff will have a big impact on its sales.
"Faced with the China-US trade tension, these US auto firms either need to accelerate local production in China, decrease their export volume or transfer plants to other countries outside the US," Wang Cun, a deputy director of the committee overseeing imported cars at the China Automobile Dealers Association (CADA), told the Global Times Thursday.
In Zhang's view, if foreign carmakers want to achieve good sales performance in the huge Chinese market, it would be better for them "to build plants in China."
Ford, having experienced its worst first-half results in China since 2012, is betting on introducing new models to reverse its declining trend in the Chinese market. A new SUV will be produced in Nanchang in East China's Jiangxi Province, the Wall Street Journal reported in August.
Ford saw sales of just over 400,000 vehicles in China in the first half of 2018, down 26 percent year-on-year. The company exported about 84,000 US-built vehicles to China in 2017.