ETF link kicks off at Shanghai bourse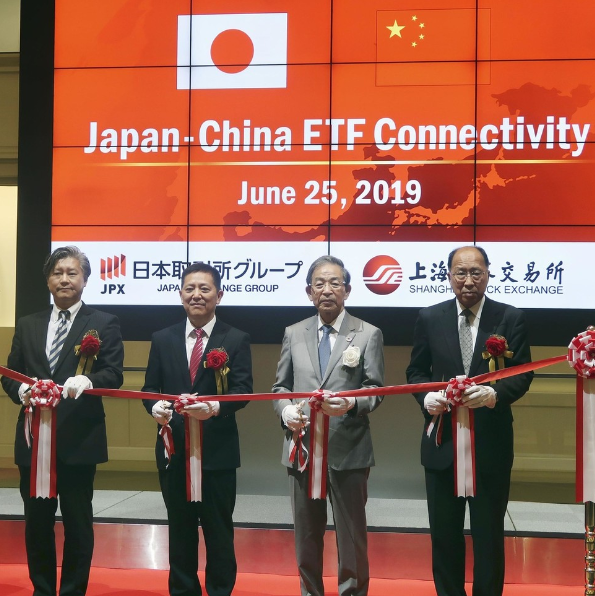 China-Japan ETF Connectivity scheme official launches on June 25, 2019. (Photo: IC)
The Chinese capital market accelerated its opening-up with the official launch of the China-Japan ETF Connectivity scheme on Tuesday, allowing investors in both countries to invest in each other's exchange traded funds market.
At the launch ceremony held at the Shanghai Stock Exchange on Tuesday, four China-Japan ETF connectivity products started trading at the Shanghai bourse. The products were rolled out by four Chinese fund companies-E Fund Management, China Asset Management, China Southern Asset Management and HuaAn Funds.
It took less than 10 months for the connectivity scheme to start trading. The SSE signed a memorandum of understanding with the Japan Securities Group in October to study the feasibility and make joint efforts to realize China-Japan ETF Connectivity.
In late April, the two parties signed a further agreement at the first China-Japan capital market forum to allow cross-listing of ETF products on the bourses of both countries.
With that, qualified institutional investors in China and Japan were allowed to set up cross-border funds to invest in ETF products in either country.
Also unveiled on Tuesday were four ETF connectivity products introduced by the Japanese companies Nomura Asset Management, Nikko Asset Management, Mitsubishi UFJ Kokusai Asset Management and Asset Manage One. The four products are traded at the Tokyo Stock Exchange.
Fang Xinghai, vice-chairman of China Securities Regulatory Commission, said at the launch ceremony that China-Japan ETF Connectivity, together with the Shanghai-London Stock Connect launched on June 17 and FTSE Russell's inclusion of the A shares implemented on June 21, indicated that China has accelerated its capital market opening-up.
By working with various capital markets, China aims to make its own capital market more regulated, transparent, open, dynamic and resilient.
He also stressed that the China-Japan ETF Connectivity, which is mutually beneficial cooperation between the world's second and third-largest economies, is of great importance at a time of rising trade protectionism in the world.
Miyahara Koichiro, chief executive officer of the Tokyo Stock Exchange, said that the connectivity scheme will activate cross-border trading between China and Japan and deepen cooperation between the capital markets of the two countries.
SSE General Manager Jiang Feng said that the Shanghai bourse will continue its cooperation with Japan Exchange Group in addition to the ETF connectivity program. The SSE will also seek opportunities to team up with stock exchanges in other markets to facilitate the two-way opening-up of the Chinese capital market.
Japanese assets account for a relatively small part of the domestic investment portfolio of qualified domestic institutional investors funds in China.
By the end of 2018, only 13 Chinese QDII funds had Japanese assets included, with a total market value of around 77 million yuan ($11 million), according to market tracker Wind Info. This accounted for 9.93 percent of the net value of all funds.
Liu Junwei, senior analyst at Everbright Securities, said that the ETFs in Japan will help to diversify risks as there were limited products currently targeting the Japanese market. With the moderate pickup of Japan's economy and its central bank's bulk investment, product performance can be predicted with certain stability.