China-Europe rail links boost pandemic recovery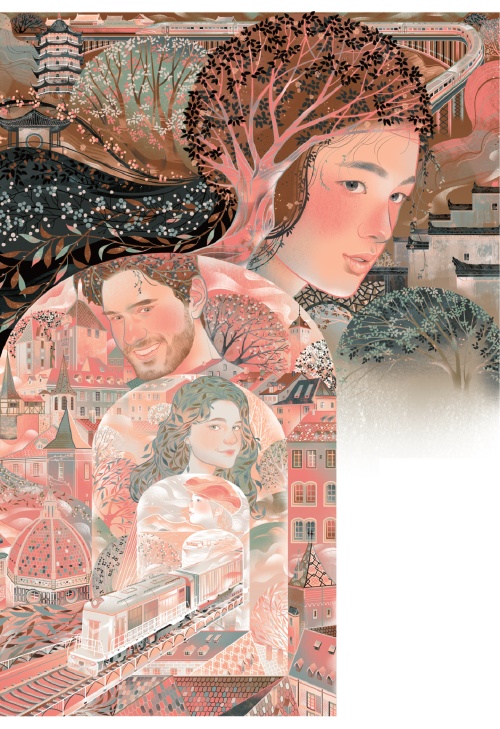 (Photo: China Daily)
Italian trader Nicola Sangiovanni has exported European food and beverages to the bustling metropolis of Chongqing for the past few years.
His business could have been severely hit by the coronavirus pandemic, but he has been able to continue it thanks to rail freight services between China and Europe.
"When COVID-19 spread across the world-with flights halted, borders shut and companies facing the prospect of missing contract deadlines-China-Europe freight trains helped us make up for lost time," he said.
During the outbreak, Sangiovanni has sent 10 container loads of wine every two months from the Italian city of Genoa to Chongqing on freight trains traveling to China via the Xinjiang Uygur autonomous region.
These trains provide "fast, low-cost and convenient transportation", he said.
"The China-Europe rail freight link has helped our business return to normal, and I think it could also help boost trade," he said.
Claudia Vernotti, director of ChinaEU, a business-led association in Brussels, the Belgian capital, said rail freight has become the preferred means of transporting goods between Europe and China during the pandemic.
Global air and sea freight capacity fell in the first seven months of the year due to restrictions imposed at airports, ports and national borders to contain the pandemic, she said.
Reduced cargo flights have resulted in the cost of such services rising two to three times higher than last year's rates, while transit times have lengthened, she added.
China-Europe rail freight services, launched in 2011, are considered a significant part of the Belt and Road Initiative aimed at boosting trade between China and other countries and regions.
Rail freight lines now link more than 60 Chinese cities to over 50 destinations in Europe.
According to China State Railway Group, from March to July, the services from Chinese cities to Europe set a number of records.
In July, China-Europe freight trains made 1,232 journeys, the highest monthly figure ever, and a rise of 68 percent year-on-year.
In the first seven months of this year, 6,354 trips were made by these trains, a year-on-year rise of 41 percent. They transported 574,000 standard cargo containers, a rise of 46 percent compared with the same period last year.
Vernotti said: "These trains are a better fit for goods that need to be transported faster than by sea, and are cheaper than air freight. I believe the China-Europe rail freight link has great development potential and will play a crucial role in reviving global trade and business ties as a safer and greener form of logistics."
Since March 21, when the first batch of medical supplies to combat COVID-19 was sent by rail from Yiwu, Zhejiang province, to Madrid, the Spanish capital, China-Europe freight trains have contributed greatly to the global fight against the virus.
By the end of July, the trains had transported 4.97 million items of medical supplies weighing a total of about 39,000 metric tons, according to official figures.
Kang Yan, deputy general manager of Zhengzhou International Hub Development and Construction Co in Henan province, said rail freight services to Europe resumed from the city on Feb 16.
"The trains have transported a great deal of urgently needed anti-epidemic material," he said. "At the end of February, we also opened the freight services to overseas individuals to help them transport personal items."
In the first seven months of this year, 585 journeys were made between Zhengzhou, capital of Henan, and European destinations. The total cargo value was $2.34 billion, a year-on-year rise of just over 18 percent. The weight of the cargo was 364,700 tons, up by nearly 32 percent year-on-year.
Kang said these trans-continental freight trains closely link Asian and European countries through trade and also play an important role in strengthening global efforts to fight the pandemic.
"Moreover, without these trains, far more damage would have been caused to the global supply chain, and the shortage of anti-epidemic materials in countries along the route would have been more severe," he said.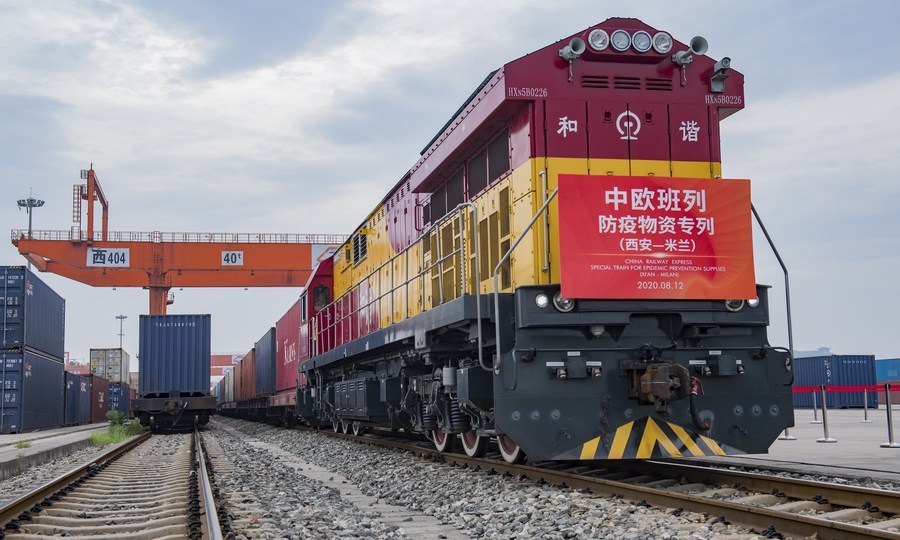 A China-Europe freight train with 45 compartments of anti-epidemic supplies leaves the Xinzhu Railway Station in Xi'an, Northwest China's Shaanxi province, on Aug 12, 2020, to head for Italy's Milan. (Photo: Xinhua)
Severely affected
General manager of Henan Curry Supply Chain Management, Wang Tao, said that in April alone, he booked two trains, each with 43 standard cargo containers, for a local factory to send medical supplies from Zhengzhou to Hamburg, Germany, and to Moscow, the Russian capital.
Wang, whose main line of work is international logistics, said his business has been severely affected by the pandemic, and many of his clients now favor rail services instead of sending goods by sea or air.
"Ships, which are obviously slower than trains, have been frequently delayed or halted during the pandemic. Our products were once stuck in a port for more than a month, upsetting our overseas retailers, as they were unable to receive the products on time," he said.
Wang added that it takes 34 to 40 days to transport goods from Zhengzhou to Hamburg by ship, but only 16 to 18 days by rail, and the latter services are also reasonably priced.
"From March to July, the volume of rail freight to Europe we arranged for clients was double that for the same period last year, while shipping and air volumes were down by nearly 50 percent on last year," he said.
Axel Mattern, joint CEO of Port of Hamburg Marketing, said he has also witnessed a surge in the frequency and volume of goods carried by China-Europe freight trains this year.
Some 200 such trains running from Chinese destinations to Hamburg are available.
"Despite the COVID-19 pandemic, rail traffic between China and Hamburg rose in January and into March and April. The volume of imported and exported goods is picking up and we are also making new connections with inland ports in China," Mattern said.
He added that Hamburg is "China's Gateway to Europe", as it is an important port for Chinese goods reaching the continent before they are distributed to destination countries such as Spain, Italy, France and the Czech Republic.
Last year, the Port of Hamburg handled about 9 million TEUs (twenty-foot equivalent units) of freight and more than 136 million tons of cargo. Some 2.7 million of the TEUs were from China.
Mattern said global shipping capacity this year has been greatly reduced and air traffic largely halted due to the pandemic. As a result, many customers have chosen rail freight services as an alternative mode of transportation.
Rail freight has also been an effective way to transport medical supplies such as face masks to help European countries fight the outbreak, he said.
He added that rail and shipping freight businesses have started to pick up, especially those in China and elsewhere in Asia, as many countries throughout the world have eased coronavirus restrictions to rescue their economies.
Although rail freight still lags behind its marine counterpart in terms of the quantity of goods being transported, it "definitely plays an important role" in boosting economic ties and trade between China, Germany and other European countries, he said.
"The signs are quite good. Our port is busy and we are getting more trains and ships. The economic forecast, especially for Sino-German business relations, is very good, according to reports from many institutions."
More Chinese cities are launching rail freight links to Europe.
A new line is operating between the Guangdong-Hong Kong-Macao Greater Bay Area in southern China and the German city of Duisburg. The first train to operate on the line, carrying electronic products, machinery and textiles, departed from Shenzhen, Guangdong province, on Aug 18. Five days later, it left China through the Alataw Pass, a major rail port in Xinjiang.
On Aug 26, Luoyang city, Henan, launched its first China-Europe rail freight service when a train loaded with tractors left for Barnaul, Russia-a journey of about 20 days.
With rail freight traffic rising, the National Development and Reform Commission recently allocated 200 million yuan ($28.6 million) to support construction of transportation hubs in five cities to improve services between China and Europe. The cities are Zhengzhou, Chongqing, Chengdu, capital of Sichuan province, Xi'an, capital of Shaanxi province, and Urumqi, capital of Xinjiang.
Cui Hongjian, director of the Department of European Studies at the China Institute of International Studies, said economic development worldwide after the pandemic will depend considerably on market efficiency and global industrial supply chain security.
China-Europe freight train services, which have remained stable and shown great potential during the outbreak, could meet the requirements of such development, Cui said.