Additional steps to spur China's consumption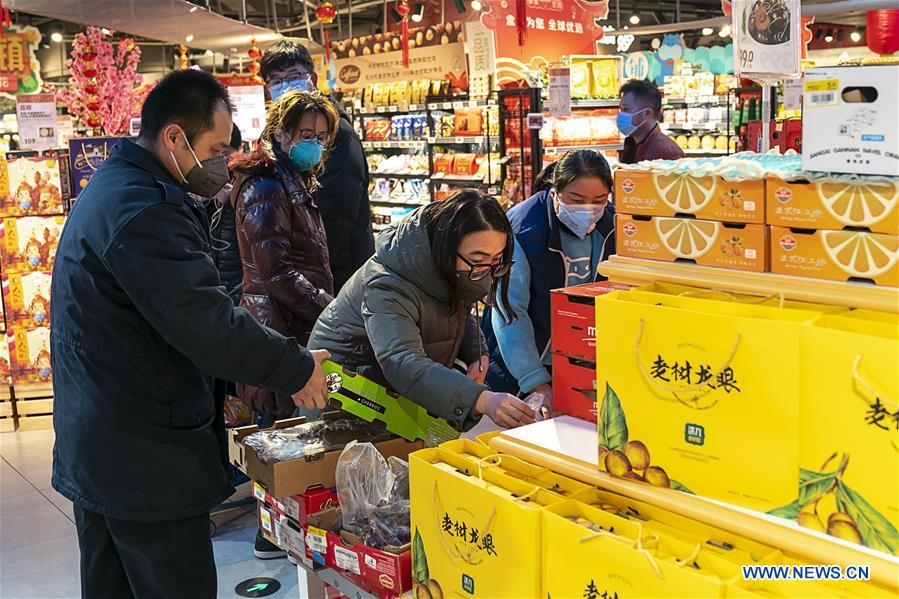 Residents shop at a supermarket in Wuhan, central China's Hubei Province, Jan. 27, 2020. (File photo: Xinhua)
China is taking steps to boost consumption, such as improving consumer market supply and speeding up the construction of a smart consumption ecosystem, in a key move to foster steady growth in the economy, according to the country's top economic regulator.
The country on March 13 announced 19 measures to help promote higher quality and an expansion of capacity in the consumer sector and foster a robust domestic market, according to a document jointly released by the National Development and Reform Commission and 22 other departments.
The NDRC said in a statement that the new move is part of the country's larger drive to fight the COVID-19 outbreak and inject new impetus to economic growth. It also said it is necessary to cultivate new types of consumption and foster consumption upgrading.
New measures include encouraging areas that have restrictions on car purchases to increase the number of car plates as appropriate, accelerating the construction of 5G networks and their commercial use, prompting the growth of both online and offline consumption, increasing residents' income, expanding imports, further increasing the supply of high-quality goods in the domestic market and setting up more duty-free shops.
Experts said the new moves will better satisfy people's increasing demand for high-quality products and services, accelerate consumption upgrading and foster new sources of economic growth.
"Currently, Chinese people are ushering in an era of consumption upgrades that attached more importance to development and enjoyment, providing strong support to create a robust domestic market," said Wang Yun, director of the consumption office of the economics institute at the China Academy of Macroeconomic Research.
"The coronavirus epidemic will not change the trend of consumption upgrades and people's desire for a better life. The new document is sending a positive signal to boost consumption and implement a series of targeted measures, which will effectively bolster consumer confidence and boost their spending."
Wang highlighted the new measures, such as building a smart consumption ecosystem, saying it will help promote both industrial and consumption upgrades and foster high-quality development.
Those new economic growth points include smart cars, ultrahigh-definition videos, virtual reality, wearable devices, 5G-enabled information services, green energysaving products, online health services, online education and more kinds of smart services and products, Wang said.
In fact, consumer purchases remain the main driver of economic growth, contributing nearly 60 percent of China's growth in 2019, the National Bureau of Statistics said.
To maintain stable economic growth, China is ramping up efforts to bolster domestic consumption. On March 13, the Ministry of Industry and Information Technology unveiled the latest list of new energy cars that are exempted from taxes on car purchases, including the Tesla Model 3.
Wang Qiang, an associate professor at the Business School of Renmin University of China, said China is actively taking a series of measures to stabilize the level of consumer purchases and unleash the public's consumption potential, which will help ease market concerns about the epidemic's impact on the consumer market.
"Although we are experiencing a period of epidemic prevention and control, expanding consumption has become an urgent need for China's economic development," Wang added. "More efforts are also needed to foster a better business environment, accelerate the transformation of government functions, streamline administration and delegate power to the lower levels and conduct regular policy evaluations."