High-profile investors bet on stocks tied to millennials: Sohn Conference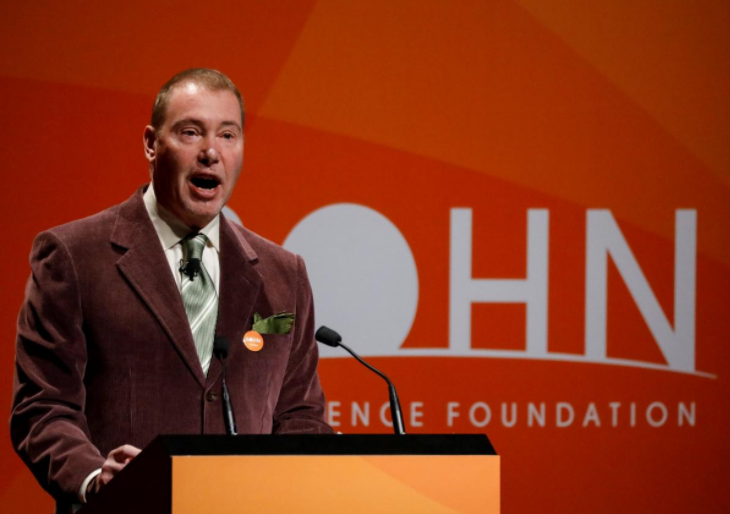 Jeffrey Gundlach, CEO of DoubleLine Capital LP, presents during the 2018 Sohn Investment Conference in New York City, US, April 23, 2018 (Photo: Reuters)
Hedge fund managers at the high-profile 2018 Sohn Investment Conference in New York pitched stock ideas on Monday that they said should benefit from the growing clout of the millennial generation, ranging from online food ordering to homebuilders.
John Khoury, founder and managing partner of the $2.7 billion Long Pond Capital hedge fund, revealed a long position in US homebuilder D.R. Horton Inc, which he said should rise as more millennials age into the first-time home buyer market.
D.R. Horton, the country's largest homebuilder, has been increasingly focused on its entry-level segment, which the company in January said should grow strongly over the next three years.
Two investors pitched online food ordering companies. Alexander Captain, who runs Cat Rock Capital Management, introduced Netherlands-based Takeaway.com NV while Li Ran, who runs Half Sky Capital, pitched GrubHub Inc, the parent company of Seamless. She said GrubHub averages $30 per order and earns 15 percent of each order, with spending growth at restaurants outpacing spending at grocery stores.
"I like to call this chart 'millennials can't cook," Ran said, to laughter.
Millennials, a term for those born between 1981 and 1996, are expected to become the largest generation in the United States in 2019, according to estimates from Pew Research.
Jeffrey Gundlach, one of the world's most closely watched investors, recommended a short position in social media giant Facebook Inc and a long position in the SPDR S&P Oil and Gas Exploration ETF.
"Facebook used to be a place people felt good going to," Gundlach said.
Facebook has come under pressure as the company acknowledged misuse of users' data.
Rising Confidence
Investors were confident about their stock picks at a time when the broad S&P 500 has been lagging and retail clients have expressed nervousness about the durability of the stock market's long-running gains.
Long Pond Capital's Khoury suggested that D.R. Horton has more than 60 percent upside, while Ran of Half Sky Capital said GrubHub could hit $160 a share, up about 55 percent from its Monday closing price of $102.17.
Among technology-focused investors, Glen Kacher, founder and chief investment officer at Light Street Capital, announced a long position in online security company Palo Alto Networks Inc, which he said has a 164 percent upside through 2020.
Chamath Palihapitiya, founder and chief executive officer at Social Capital LP, offered a bullish take on cloud management company Box Inc, predicting the stock could grow 10-fold over the next 10 years.
"If you believe in and if you care about A.I. [Artificial Intelligence] and its role in the world, be long Amazon, be long Google, but be long Box," Palihapitiya said, calling Box a "really interesting disruptive company."
Shares of Box closed up nearly 11 percent on Monday, turning it positive for the year to date.
Organizers of the Sohn Conference said they were expecting as many as 3,000 attendees at New York's Lincoln Center, making Sohn one of the most high-profile investment conferences of the year.
Against a background of more volatile markets and worries that some of the biggest hedge fund managers are nursing losses this year, many in the audience focused on the smaller, better-performing investors like Oleg Nodelman.
Nodelman, founder and managing director of EcoR1 Capital LLC, whose fund returned a reported 53 percent last year, announced a long bet on drug company Ascendis Pharma A/S.
Larry Robbins, of Glenview Capital Management LLC, threw cold water on the notion that Amazon.com Inc will enter the drug distribution business and reiterated the bullish case for his existing positions in McKesson Corp, Express Scripts Holding Co and CVS Health Corp.
"Amazon doesn't always win," he said.
David Einhorn, whose Greenlight Capital was down 14 percent in the first quarter, presented an existing short position in bond insurance company Assured Guaranty Ltd. The stock fell 6 percent in after-hours trading, wiping out its gain for the year-to-date.
Assured Guaranty is "a melting ice cube that is paying out the drops while it still can," Einhorn said.