JD to invest more than 6 billion yuan in Hubei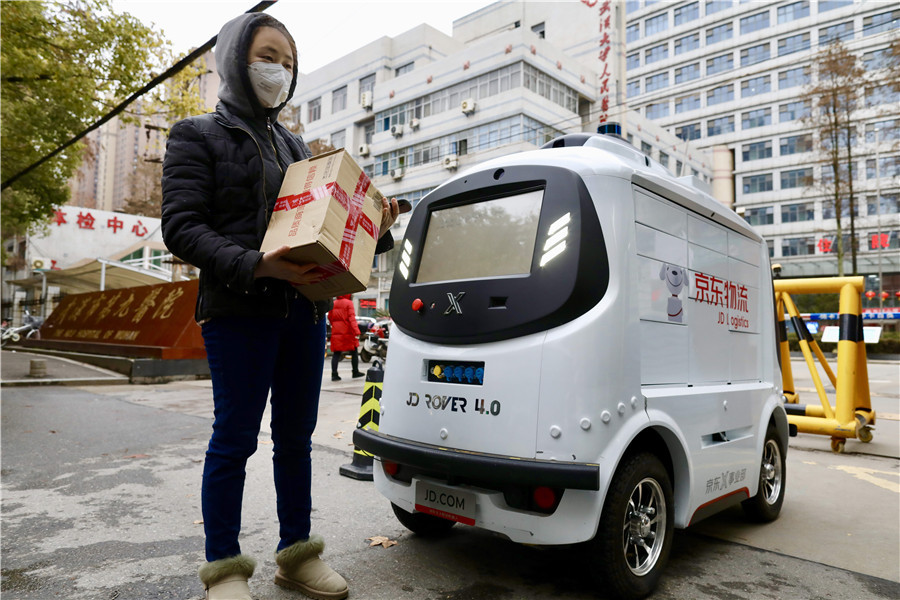 A customer picks up her delivery from an autopilot robot in Wuhan, Hubei province. (Photo by Zhu Xingxin/China Daily)
Chinese e-commerce giant JD announced on Wednesday it will invest more than 6 billion yuan ($849 million) in Central China's Hubei province within the next three years, in a bid to help boost the economic recovery and development of local small and medium-sized enterprises through its capacities in the supply chain, logistics and technology.
The move came after Wuhan, capital of Hubei province and the hardest-hit area by the COVID-19 outbreak on the Chinese mainland, lifted lockdown on Wednesday.
JD said it will fully support Hubei to build a new generation of infrastructure centered on intelligent supply chain and smart logistics. It also will propel the upgrading of the logistics industry, on the basis of JD's Asia No 1 logistics park in Wuhan and high-efficient logistics network covering Hubei province.
It also will strengthen its support to local brands and small and medium-sized enterprises in Hubei and help sell local agricultural products to consumers across the nation.
On April 1, JD kicked off a special campaign, "Buy Hubei Goods", across its online and offline channels, partnering with the media to fully advertise local produce.
From April 1 to Tuesday, JD sold 1,400 tons of Hubei's agricultural produce, with sales revenue surging 106 percent compared with the same period last year. It has also rolled out supportive measures for Hubei merchants, covering data flow, operations, finance and logistics.
In addition, JD will focus on supporting the sales of agricultural products in poverty-stricken areas in Hubei and helping the impoverished areas to rise up from poverty, as the country aims to eradicate poverty and achieve its goal of building a moderately prosperous society in all respects this year.