Boeing wins massive 737 Max order, 3 months after global grounding
SAN FRANCISCO, June 18 (Xinhua) -- Boeing said Tuesday it has signed a letter of intent with International Airlines Group (IAG) to sell 200 737 Max airplanes, the first order since the now infamous jet model was grounded globally since March.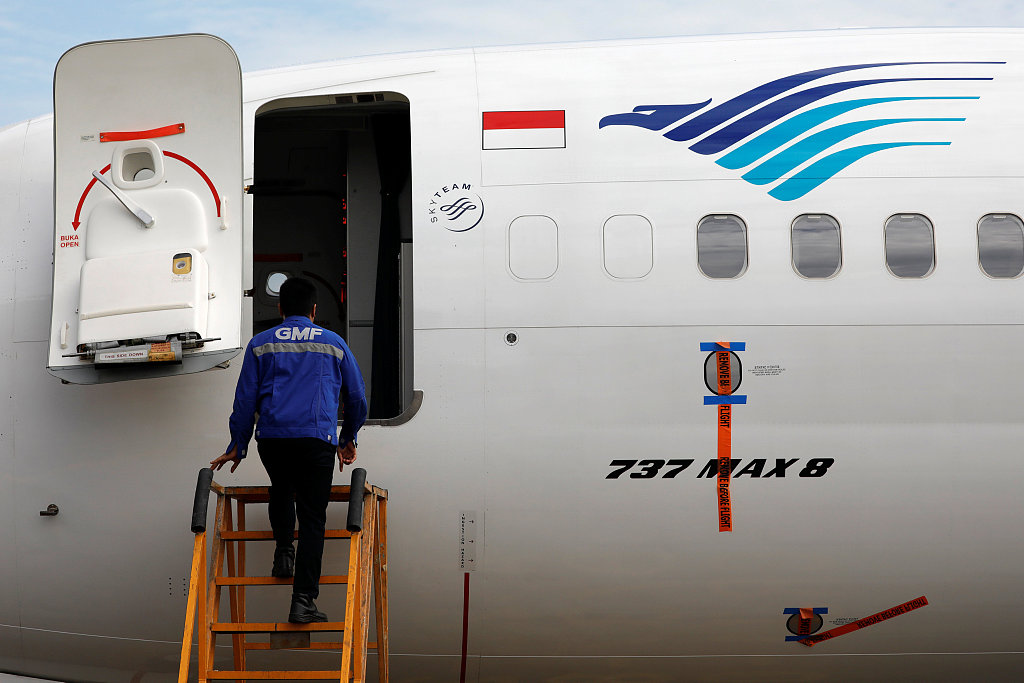 A technician prepares to check Garuda Indonesia's Boeing 737 Max 8 airplane parked at the Garuda Maintenance Facility AeroAsia, at Soekarno-Hatta International airport near Jakarta, Indonesia, March 13, 2019. (Photo: VCG)
The U.S. top aircraft manufacturer announced the signing of the document with the IAG, owner of British Airways, at the ongoing Paris Air Show, and the purchase will also include the larger 737 Max 10 jets.
The new deal is viewed as a boost to Boeing's efforts to win back customers' confidence in 737 Max jets after two 737 Max 8 planes crashed in two separate deadly incidents in Indonesia and Ethiopia in October and March, respectively.
The two disasters killed a total of 346 people, which led to the global grounding of 737 Max aircraft in mid-March.
"We have every confidence in Boeing and expect that the aircraft will make a successful return to service in the coming months having received approval from the regulators," said IAG Chief Executive Officer Willie Walsh.
Boeing Airplanes tweeted: "Thank you International Airlines Group for your trust and confidence in the 737 MAX and the people of Boeing."
"Proud of the work our team is doing to return the 737 MAX safely to service and thankful for our partnership with IAG," Boeing CEO Dennis Muilenburg said on Twitter.
With the 737 Max order, Boeing said the IAG will fly a combination of the 737 Max 8, which seats up to 178 passengers in a two-class configuration, and the 230-seat 737 Max 10 jets.
The IAG now is operating almost exclusively a fleet of Airbus A320 family aircraft for its single-aisle jets.
The two companies did not disclose the price of the 200-jet order. The IAG group finalized a major order for Boeing's long-haul 777X jets earlier this year to complement its fleet of current-generation 777s and new 787 Dreamliners.
The IAG is one of the world's largest airline groups with 582 aircraft flying to 268 destinations around the world, carrying 113 million passengers in 2018.