BYD electric buses come to Chile
Global Times
1511408057000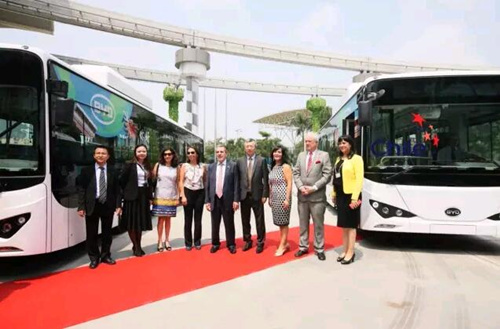 Chile political delegation witness the BYD electric buses made specially for Chile. (Photo: cnbuses.com)
The first batch of BYD pure electric buses have started service in Santiago, capital of Chile, the company said in a statement sent to the Global Times on Wednesday.
The buses can help reduce pollution that would be generated by fossil-fuel vehicles, which is why the local government teamed up with BYD Co, Tamara Berríos, who is in charge of the Chilean market at the carmaker, was quoted as saying in the statement.
It will also lower costs, according to the company.
For example, to operate a traditional diesel bus costs 300 Chilean pesos (47 cents) per kilometer, while the electric bus only costs 70 pesos.
In 2018, the country will launch another 90 electric buses in the country, according to the statement.