Concerns over UK PM's visit dismissed
Global Times
1517273254000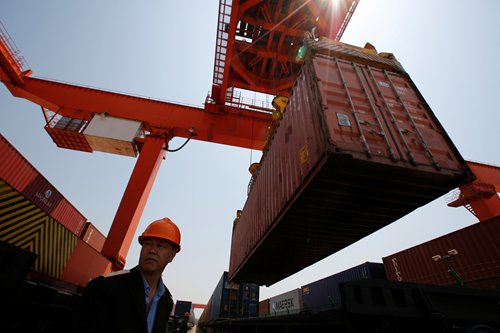 A railway official watches a crane unload containers that came from London on a Sino-EU freight train at the goods station in Yiwu, East China's Zhejiang Province in April 2017. Photo: VCG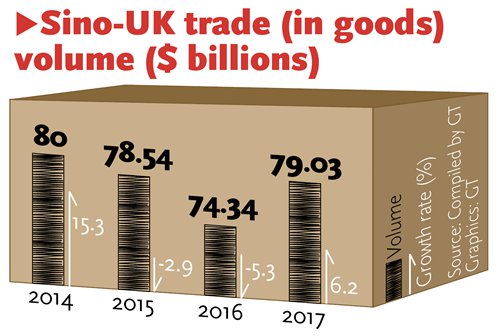 Graphics: GT
UK Prime Minister Theresa May's upcoming official visit to China is set to yield substantial results, including a slew of business deals, and to further strengthen the bilateral economic and trade ties between the two countries, Chinese officials and experts said.
Experts also dismissed recent media reports that May's trip has been overshadowed by unease in the UK about Chinese overseas investment and the prime minister's reluctance to endorse the China-backed Belt and Road (B&R) initiative.
May is due to arrive in Beijing on Wednesday for her first official visit to China, which will include stops in Shanghai and Wuhan, capital of Central China's Hubei Province. She will also have meetings with top Chinese officials as well as business leaders from both countries, according to media reports.
"The UK prime minister's visit to China will strengthen China-UK economic and trade cooperation and political mutual trust," Hua Chunying, spokesperson for the Chinese Foreign Ministry, said on Monday.
Bai Ming, a research fellow at the Chinese Academy of International Trade and Economic Cooperation, said the trip would see a number of business deals signed, as well as setting up talks for future cooperation under the B&R initiative.
"Economic and trade cooperation will dominate the trip, as the UK is seeking a more independent role in global trade after it voted to break away from the EU, and China is looking to boost cooperation around the globe," Bai told the Global Times on Monday, adding that cooperation under the B&R will attract a lot of attention.
Chinese and UK officials have already been working on business deals ahead of May's visit, according to media reports.
May is bringing more than 40 companies and universities and trade associations with her for the trip, and as many as 100 partnerships, alliances and other deals could be signed, Sky News reported on Friday.
During a trip to China in mid-December 2017, UK Chancellor Philip Hammond said that the UK was seeking closer cooperation with China under the B&R.
"I was privileged earlier this year to represent the UK at the first Belt and Road forum and one of the things we will discuss is the opportunity for closer collaboration in delivering the ambitions of the Belt and Road program," Hammond said at the time, according to Reuters.
Chinese Ambassador to the UK Liu Xiaoming also said that cooperation under the B&R initiative would be one of the highlights of May's trip to China, China Radio International reported on Friday.
Clouds of concern
However, some media reports suggested that the trip might not be as smooth as officials have claimed.
Commercial deals and a "golden era" in bilateral ties "have been thrown into jeopardy" by some UK officials' suspicion over China's investment in the UK and May's reluctance to offer formal support for the B&R, the Financial Times reported on Saturday, citing unnamed UK government officials.
Downing Street declined to comment on Prime Minister May's reluctance to support the B&R initiative. The initiative was formally supported last year by about 30 countries, including Russia, Italy, Greece and Hungary, according to the Financial Times.
But these claims are "preposterous," Jiang Yong, a research fellow at the China Institutes of Contemporary International Relations, told the Global Times.
"To say such a high-level visit, the terms of which are usually set before it is announced, and such an important bilateral relationship could be jeopardized by the lack of verbal support from a UK prime minister is completely ridiculous," Jiang said on Monday.
Jiang said that neither the Chinese government nor the B&R need words of support - concrete agreements and cooperation for mutual benefits are more important, and China and the UK are already cooperating under the B&R.
Liu, the Chinese Ambassador to the UK, pointed out that the UK government has set up advisory bodies and appointed special envoys to help UK businesses better understand and engage in the B&R initiative.