More agricultural, industrial futures trading to be set up in China
Global Times
1605785018000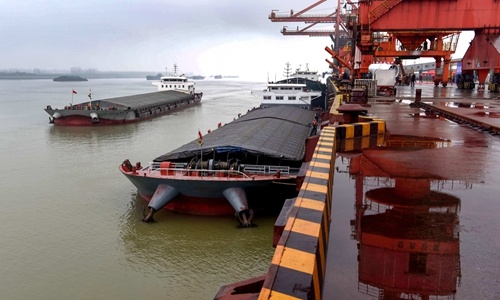 As China's international copper cathode futures formally debuted on the Shanghai International Energy Exchange on Thursday, analysts said that the country is expected to roll out more contracts based on commodities like soybeans and corn to attract overseas investors.
The benchmark price of international copper cathode futures contracts was set at 47,680 yuan ($7,247) per ton. As of 4 pm, the price of contract BC2103 stood at 47,090 yuan per ton, down 1.09 percent for the day.
On Thursday, Beijing-based Wanbao Mining conducted the first trade of international copper cathode futures contract BC2103, while international trader Envy Global Trading carried out the first trade of contract BC2104, chinatimes.net.cn reported.
The yuan-denominated futures contract is the fourth international product trading on the exchange, following crude oil, low-sulfur fuel oil and natural rubber.
At the listing ceremony of the new futures contract on Thursday, China Securities Regulatory Commission Vice Chairman Fang Xinghai said it's hoped that the futures can make full use of their advantages and become a benchmark for cross-border copper trade in the Asia-Pacific region.
Ge Honglin, chairman of Aluminum Corp of China, said at the ceremony that the rollout of the contract will provide a more open, consistent and transparent price benchmark and a more effective risk management tool, helping domestic and overseas enterprises to improve the domestic and overseas markets and provide resources for high-quality development.
General Manager of the Shanghai Futures Exchange Wang Fenghai said that the exchange is aiming to offer shipping freight index futures, saying that the market urgently needs such a contract for hedging purposes because of the impact of shipping rates on commodity prices.
Dong Dengxin, director of the Finance and Securities Institute at the Wuhan University of Science and Technology, told the Global Times on Thursday that it's likely that more commodity-based international futures contracts will be rolled out so China can gain more global pricing power and enterprises can better manage risks. He pointed to soybeans, corn, wheat and other industrial raw materials as possible contracts.
China launched a yuan-denominated crude oil futures contract in Shanghai in March 2018, which has performed well so far. As of its second anniversary, cumulative trading volume had reached 29.88 trillion yuan, according to the exchange.
There are even higher hopes for the international copper cathode futures contract, given China's status as the world's No.1 producer, consumer and importer of refined copper.
"Promoting the development of domestic financial markets will require higher-level opening-up and earnest implementation of comprehensive reforms to nurture market mechanisms," Dong said.