Chinese NEV automakers eye European markets, betting on local transition toward low emissions
Global Times
1631251326000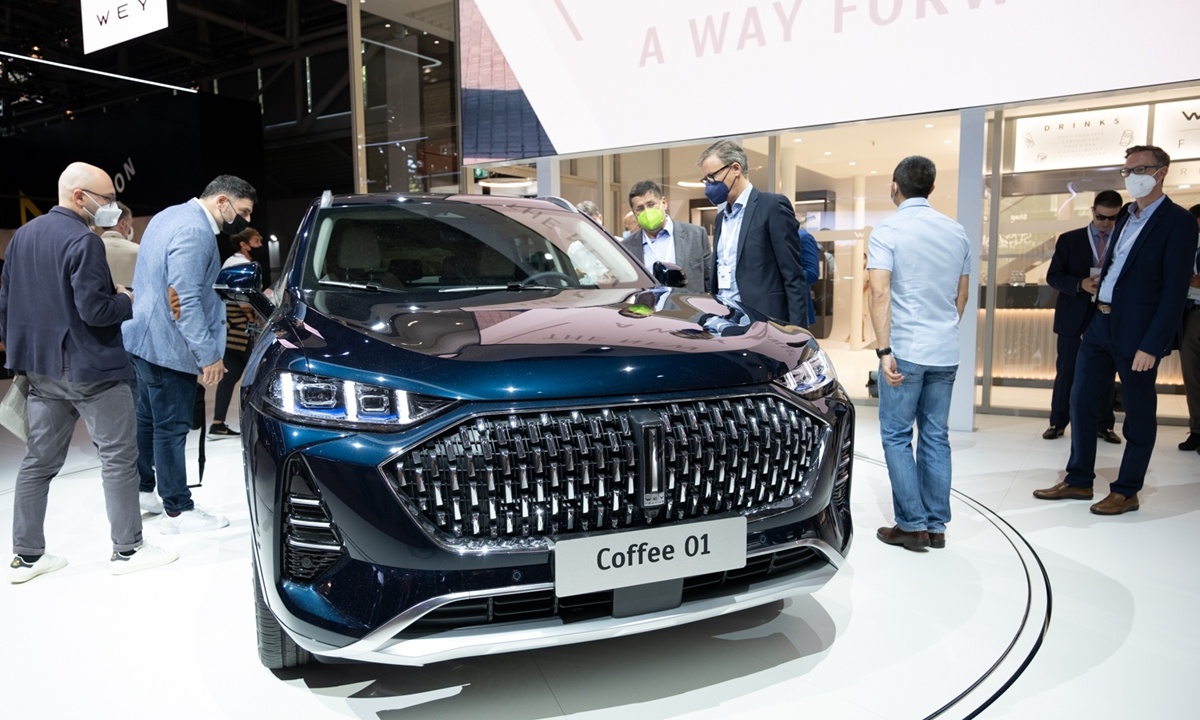 Europe, in the midst of a booming electric vehicle (EV) sector, has become a main target for Chinese automakers to go abroad, exporting their advanced technology and mature supply chains that have experienced rapid growth in the China, the world's largest new-energy vehicle (NEV) market.
Several Chinese automakers including Great Wall Motor and EV start-ups like Xpeng and Leap Motor participated in the ongoing International Motor Show (IAA) Mobility 2021, which runs from Tuesday to Sunday in Munich.
Chinese tech giant Huawei also took part in the exhibition as a smart vehicle supplier, showcasing its AR-HUD (augmented reality head-up display) solution, which uses vehicles' front windows as a display screen to provides a safer and enhanced driving experience.
Despite limited number of Chinese firms represented at the IAA, they could still reflect a trend of Chinese NEV makers eyeing Europe as their main overseas market, industry observers said.
Great Wall said at the IAA auto show that it will start taking orders for its latest launched plug-in hybrid vehicle (PHEV) Coffee 01 sports utility vehicle for the German market at the end of 2021 and deliveries of the vehicle will start in the first half of 2022.
It will also announce other European markets apart from Germany in which to launch the Coffee 01 vehicle, the company said. Besides, the Chinese automaker will launch its first European brand experience center of the WEY brand in Munich in 2022.
WEY is a leading luxury SUV brand in China owned by Great Wall.
The person in charge of WEY brand's European business told the Global Times on Thursday that the exploration into European luxury auto market and NEV sector marked an important milestone not only for the firm but also Chinese auto industry in the world's arena.
Cui Dongshu, secretary-general of the China Passenger Car Association, said that China's auto export market still has significant room to scale up given the current size of around one million units per year.
China exported a total of 1.08 million units of vehicles in 2020, down 13.2 percent year-on-year, customs data showed.
Despite a decline during the pandemic, there was an obvious trend toward growth last year, Cui told the Global Times. "In the past, the country's vehicle exports were mainly concentrated in developing countries and regions such as Latin America, West Asia, and Southeast Asia. From the perspective of export market distribution in 2020, developed countries have become latecomers and are expected to become new growth centers in the future."
"And NEVs could be a key driving force in enhancing China's exports in the developed regions like Europe, where it is rapidly shifting to green mobility," he noted.
Data from the China Association of Automobile Manufacturers showed that in the first half of this year, China exported 88,000 units of NEVs, an increase of 298.1 percent year-on-year.
According to the latest European Electric Car Report issued by Berlin-based Schmidt Automotive Research, total sales volume of Chinese EV brands in 18 major European automobile markets recorded 23,836 units last year, an increase of more than 13 times compared with the same period in 2019, and their market share has reached 3.3 percent, signaling a fast development phase that Chinese EV makers are embracing on the European continent.
Europe beat China in 2020 as the region that registered more EVs, the first time since 2015. Europe recorded 1.3 million newly registered units while China recorded 1.2 million units. In 2019, those numbers were 465,000 for Europe and 1.1 million for China, according to the International Energy Agency.
"But this year, we estimate that China will regain its No.1 position in terms of NEV sales," Cui said. Cui forecasts that NEV sales in China this year could hit around three million units, while the figure for Europe could grow to two million.