US cars at risk in Chinese market
Global Times
1557426501000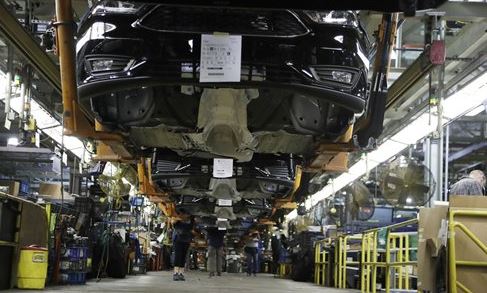 Ford Focus assembly line at the Michigan Assembly plant, US. (File photo: IC)
A potential high retaliatory tariff on imported automobiles from the US could cost the US its share of the Chinese market, as dealers prepare to turn to domestic vehicles and those from other countries.

In response to a US announcement that it will raise tariffs from 10 percent to 25 percent on about $200 billion of Chinese imports on Friday, China's Ministry of Commerce stated that it will take all "necessary countermeasures," which could include a tariff on vehicles from the US.

In July 2018, the Ministry of Finance announced a retaliatory tariff of 40 percent on US-produced automobiles. Su Hui, an analyst with the China Automobile Dealers Association, told the Global Times that "the tariff this time could be, or even higher than 40 percent."

Wang Lin, a car dealer based in Shanghai, said that he is planning to promote cars from other countries to prepare for the potential tariff on US-made automobiles.

"It is like taking one dish from the menu. There are still plenty of options left," Wang said. "A 40 percent tariff will raise the price of vehicles significantly and squeeze profit margins. But we are going to focus more on vehicles from Germany and Japan as well as from domestic automotive companies to offset the potential damage."

Wang also told the Global Times that considering the uncertainty in the trade war, switching to domestic carmakers could make up for lost profits and be more lucrative for him than the US imported car business.

The uncertainty of the trade war has been looming over cars imported from the US for some time. According to a report by sohu.com, from January to October in 2018, sales of automobiles imported from the US slowed 17 percent compared with the previous year, while sales of automobiles from Germany increased 4.5 percent and sales from Japan rose 4.2 percent. The sales of automobiles from South Korea jumped 7.9 percent.

For the US automobile makers, the increased tariff could come as a blow to their already-troubled business in China. Su noted that tariffs on US cars will drive away many potential Chinese customers.

"Automobile brands from the US have not gone strongly in recent years, and they are facing competition from other manufacturers," Su said.

"The rise in tariffs not only will raise the numbers on the price tags. Higher tariffs will also mean higher costs for maintenance and higher insurance premiums. The raised costs will severely cut US car sales in the Chinese market and turn a large number of customers away," Su said.