Auto chip supply crunch worsens, probably to last till 2022
Global Times
1621951823000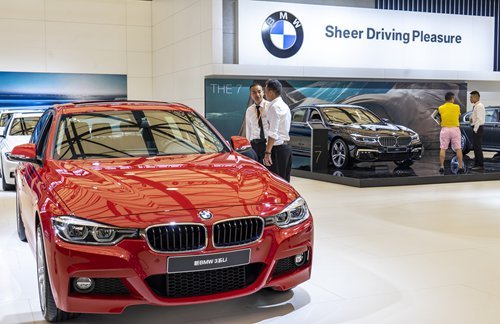 The global vehicle chip supply crunch has not eased. Some automakers plan to cut vehicle production, and industry sources predict things will get worse before it gets better this year.
Producers badly need more mainstream microcontroller chips and other types of auto processors, a source at an auto producer based in Southwest China's Chongqing city told the Global Times on Tuesday.
The source, speaking anonymously, said that his company has had to reduce output by 5 percent. The company plans to install the missing parts after the components arrive.
The company is also working on an inventory plan that reflects market conditions, and it will stock up on chips based on market prices.
Market observers had expected the global chip shortage to ease by now.
However, the source warned that things might actually get worse in the third quarter when most companies will have run through their stockpiles. The situation may only ease in the second quarter of 2022.
According to AlixPartners, a global consulting firm, the world's carmakers will lose 3.9 million vehicles of production this year, more than the predicted four months ago of 2.2 million.
Chinese companies that cooperate with Honda moved the summer vacation for employees ahead of schedule to early June, Chinese media Yicai reported. FAW-Volkswagen will only be able to produce 400,000 cars in the second quarter - dropping by 30 percent of its total production scale, the media reported.
Car sellers are feeling the pain of reduced output. A representative from a Mercedes-Benz dealership in Chongqing and another from a BMW dealership in Beijing said that their supplies of imported cars are draining up.
A BMW sales representative in Beijing who preferred to remain anonymous told the Global Times that the store used to have more than 10 imported cars coming in every month, but that has been brought down. Lack of chips means lack of production, and fewer imported vehicles.
Based on the current situation, the China Association of Automobile Manufacturers said the chip shortage could last till January 2022.
The recent coronavirus outbreak in the island of Taiwan may worsen the shortage, industry observers warned. An employee at Taiwan Semiconductor Manufacturing Co (TSMC) has tested positive for COVID-19, among the infections reported by other manufacturers including DRAM chipmaker Nanya Technology Corp, iPhone assembler Wistron Corp, and information technology service provider Systex, media reports said.
"TSMC is the key to solving the chip shortage and sadly, there is no substitute plan in the short term. The factory which plans to expand in Nanjing, East China's Jiangsu Province, could only start production in the second half of next year," Jia Xinguang, a veteran car industry observer, told the Global Times.
Even if the crunch eases at the end of this year, it will take half a year to see production revive, he said.