Japan November factory activity growth fastest in over 3-1/2 years on exports boom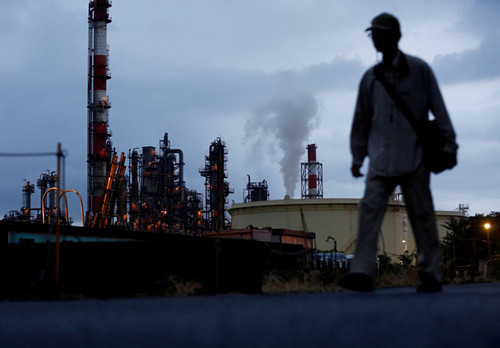 A man walks past a factory at the Keihin industrial zone in Kawasaki, south of Tokyo, Japan, August 18, 2016. Picture taken on August 18, 2016. (Photo: by Kim Kyung-Hoon/ Reuters)
TOKYO (Reuters) - Japanese manufacturing activity in November grew at the fastest pace in more than 3-1/2 years, a revised survey showed, as output, new orders, and new export orders accelerated in a sign the world's third-biggest economy continued to expand steadily.
The final Markit/Nikkei Japan Manufacturing Purchasing Managers' Index (PMI) released on Friday was a seasonally adjusted 53.6, slightly below the preliminary reading of 53.8 and above October's final reading of 52.8.
The index remained above the 50 threshold that separates expansion from contraction for the 15th consecutive month and showed that activity expanded at the fastest pace since March 2014.
The survey also showed that new export orders expanded at the fastest pace since February and that new orders rose at the quickest since March 2014.
"The upturn in the Japanese manufacturing sector gathered momentum in November," said Joe Hayes, economist at IHS Markit, which compiles the survey.
The PMI suggests the economy continued to expand smartly in the fourth quarter, which should support expectations for an uptick in inflation as the Bank of Japan remains optimistic that prices will hit its elusive 2 percent target.
Japan's economy accelerated more than expected in the third quarter due to strong exports, posting the longest period of uninterrupted growth in more than a decade.
The exports boom has fired up factory production, with
the output component of the PMI index rising to 54.3 last month, above the preliminary 54.2 as well as a final 53.3 in October.
"Demand from overseas underpinned a 44-month high in new business growth. Consequently, production was boosted to the greatest extent since February 2014," Hayes said.