Medical equipment makers step up innovation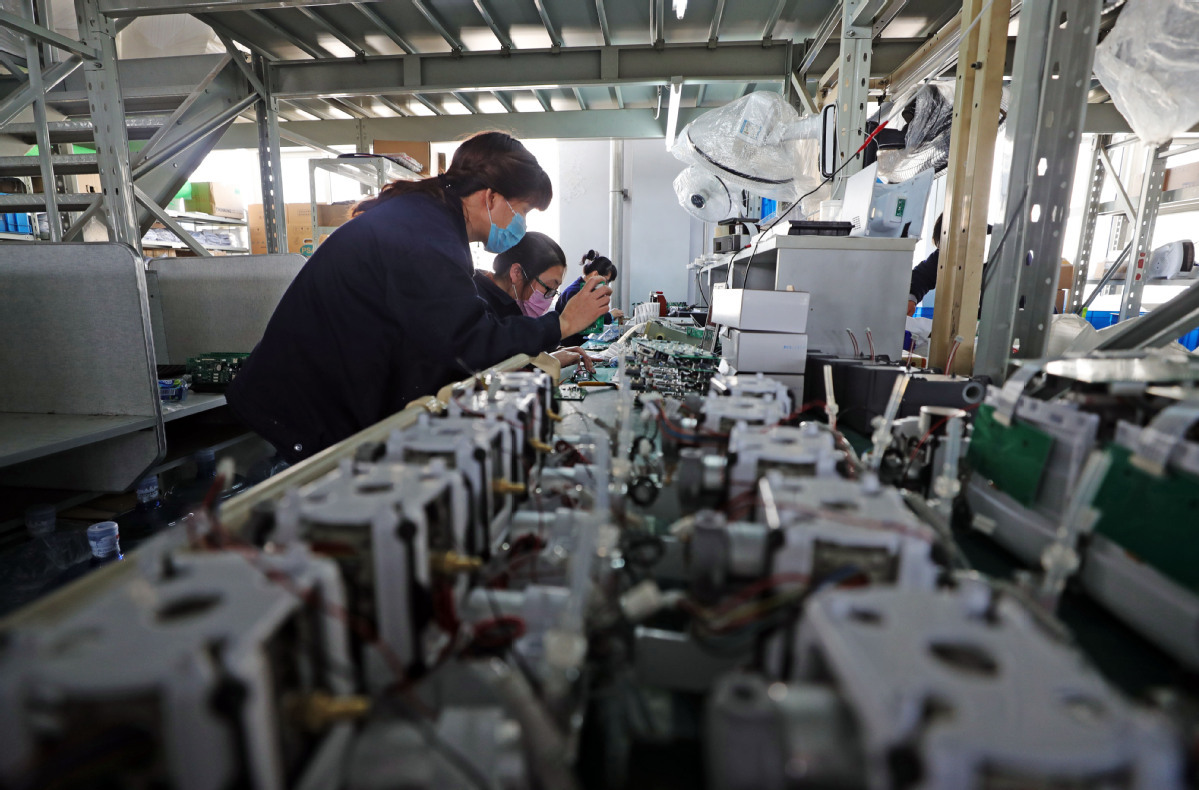 Employees assemble ventilators at a manufacturing unit in Shenyang, Liaoning province in February. [Photo/Xinhua]
China's medical manufacturing industry managed to maintain its momentum amid the COVID-19 pandemic, while boosting nation's efforts of bettering its manufacturing sector and its role in the global medical supply chain, industry experts said.
The Ministry of Industry and Information Technology approved in early May the establishment of a national high-performance medical apparatus and instruments innovation center in Shenzhen, in South China's Guangdong province, marking the country's first State-level innovation center in the medical device sector.
Aiming to create a global open platform for innovation, entrepreneurship, and industrial integration, the establishment of the Shenzhen center is part of the country's strategy to drive the upgrade of its manufacturing industry.
The central authorities issued a guideline in August 2016 to build such national manufacturing innovation centers.
Currently, there are a total of 16 national manufacturing innovation centers in China. The newly established one in Shenzhen was among those centers.
"The innovation center will adopt a dynamic mechanism in market-oriented operation, innovation collaboration, intellectual property operation and a talent team. It is expected to fill the gap between academia and industry through technological innovation and engineering," said Zheng Hairong, director of the innovation center and deputy head of the Shenzhen Institutes of Advanced Technology under the Chinese Academy of Sciences.
The innovation center has gathered a batch of leading medical equipment manufacturers, including Mindray, United Imaging, and LifeTech Scientific Corp. There are also research institutes in the center such as the Shenzhen Institutes of Advanced Technology under the Chinese Academy of Sciences.
"The importance of high-end medical equipment was highlighted during the fight against the epidemic. With the help of the innovation center, China will step up efforts in high-end medical equipment breakthroughs," Zheng said.
Yang Xinyu, secretary of the board of Shenzhen-based CSG Holding Co Ltd, one of China's largest glass producers, said establishment of the manufacturing innovation centers gather together the leading enterprises in various industries. They also integrate resources, enhance quality control and enterprise image building, and raise the standing of the entire industry to a whole new level.
"Manufacturing capability plays an important role in helping nations in containing the epidemic. It enables countries to get replenishment of medical supplies quickly and also guarantees the quick recovery of the overall economy," he said.
China is offering essential medical materials to countries that have difficulties in filling the supply gap. In some countries, China even shouldered the major responsibility of supplying key materials like COVID-19 detection kits.
The experience in local medical institutions proved that medical products from China were of good quality, said Anil Jasinghe, vice-chairman of the executive board of the World Health Organization and also director-general of the Health Services of Sri Lanka.
"Back in 2003 when SARS broke out in China, we were short of medical equipment such as ventilators, and mainly relied on imports. However, in 17 years China's medical manufacturing industry has experienced a leapfrog in development. With soaring orders from the Americas and Europe among others, Chinese ventilator manufacturers are toiling day and night to meet the growing demand," said Zhang Xun, a ventilator industry expert.
In April, Brazil's Health Ministry contacted China for help with ventilators. In mid March, New York State sent representatives to China to purchase 15,000 ventilators.
"With years of development, Chinese medical manufacturers are now exporting high-quality products to serve the outside world," Zhang said.
"The unprecedented novel coronavirus brought challenges to the industrial sectors of countries and regions around the world. When other economies were short of medical supplies, China had completed the transformation from meeting domestic demand to exporting to the rest of the world," said Yang from CSG Holding.
Though a global leader in glass production the company is, it changed tack in early February to churn out medical masks to help in virus fight. Now the company has a daily production capacity of disposable medical masks of 2 million.
Other Chinese firms, which themselves are medical supply producers, also showcased the nation's achievements in manufacturing development during the pandemic.
Wuhan-based medical supplies manufacturer Crown Name Disposable Hygiene Products Fty Ltd had received foreign orders of protective clothing worth over $90 million from Europe, the United States, Australia and elsewhere.
From Jan 20 to May 7, the company's production capacity of protective clothing increased from 3,000 pieces to over 80,000 pieces per day, higher than the level before the epidemic.
Medical equipment producers are also ramping up their efforts. Shenzhen-based Mindray said that the company received orders from over 100 countries and regions since March. From the end of January to May 19, the company had shipped over 100,000 medical equipment, including ventilators and monitors, overseas.
Yang noted that Chinese manufacturing enterprises, especially medical producers, should keep up the momentum and offer more high-quality products to the world. "It is wise to always stay prepared," he said.