Manzhouli Port exceeds 2,000 outbound, inbound China-Europe freight trains in first three quarters
People's Daily app
1602658091000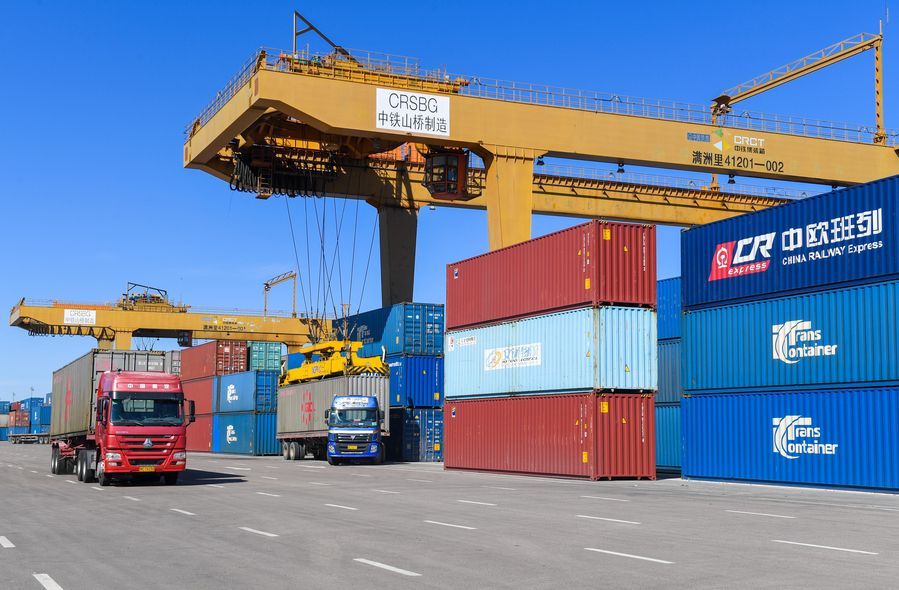 A railway container freight center in Manzhouli, a border port neighboring Russia in North China's Inner Mongolia autonomous region, on Sept 6, 2018. (Photo: Xinhua)
The number of inbound and outbound China-Europe freight trains in Manzhouli Port, the largest land port in China, has exceeded 2,000 in the first three quarters of the year.
According to the latest statistics from Manzhouli Customs, in the first three quarters, inbound and outbound China-Europe freight trains totaled 2,187, an increase of 32.38% on a yearly basis, and containers of 190,000 TEUs, a yearly increase of 35.66%.
Hu Jiawei, a staff member of the Manzhouli Customs, said 53 China-Europe railway lines pass through Manzhouli Port, covering 60 cities in China and 28 cities in 11 countries in Central and Eastern Europe, with a total distance of 12,000 kilometers. Most of the imported goods are wood, auto parts, and steel, and most of the exported goods are engineering machinery, electrical, textile, chemical, metal, culture and educational products.
Manzhouli Port is located in the west of the Hulunbuir Prairie in North China's Inner Mongolia Autonomous Region. Situated in the China-Russia-Mongolia delta, it borders Russia to the north and Mongolia to the west. It is the transportation hub of the first Eurasian Continental Bridge, a gateway from China to Russia and other CIS countries and European countries, and also China's largest border land port.
(Compiled by An Bowen)