Washington punishes Spain's Melia hotels over business with Cuba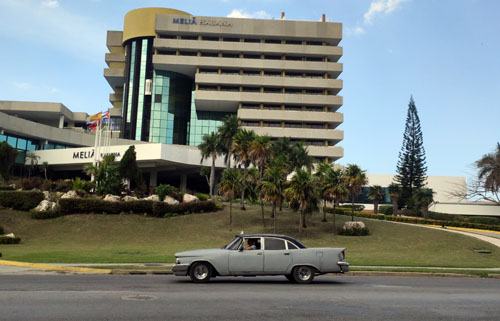 A view of the Melia Habana Hotel in Havana, Cuba. (Photo: CGTN)

The US has banned the CEO of Spain's Melia Hotel International, one of Europe's largest hotel companies, from entering the United States because it does business with Cuba. The move is an escalation of sanctions by the Trump administration against Havana.
The administration says it is enforcing decades-old legislation known as the Helms-Burton Act, which denies US entry to those who have benefited from property confiscated in Cuba in the early years of the Fidel Castro-led Revolution.
In statements to CGTN, Alberto Navarro, the EU Ambassador in Havana said "This notification issued against Melia's top executives banning them from entering the U.S. is absolutely rejectable," said the ambassador and he added that "all Spanish and European business people, who are working on legitimate trade and investment projects in Cuba, will have the full protection of the European Union by all possible means."
Meanwhile, the Spanish hotel chain insists it doesn't own any assets on the island. Instead, the company says it only manages hotels owned by Cuba.
Melia has operated in the Caribbean island nation for the past 30 years by managing an increasing number of hotels, amounting to 39 at present. Melia says it will continue to bet to the Cuban market.
Last year, a Spanish court dismissed an 11-million-dollar lawsuit filed by a Cuban American family against Melia for operating two hotels in eastern Cuba, on land allegedly expropriated by the Cuban government.
Since the US authorized lawsuits against foreign companies operating in Cuba, Spanish government officials have criticized the US moves. "One of the reasons for my visit to Cuba is the enforcement of title III of the Helms Burton law, which affects Spanish companies here. We reject the activation of this law," said Spain's Tourism Minister Maria Reyes-Maroto during a visit to Havana last year.
According to observers the escalation of sanctions led by the Trump administration can only led to further weakening of the U.S.-Cuba bilateral relations.