US Fed to provide 2.3 tln USD in loans to support economy amid coronavirus disruptions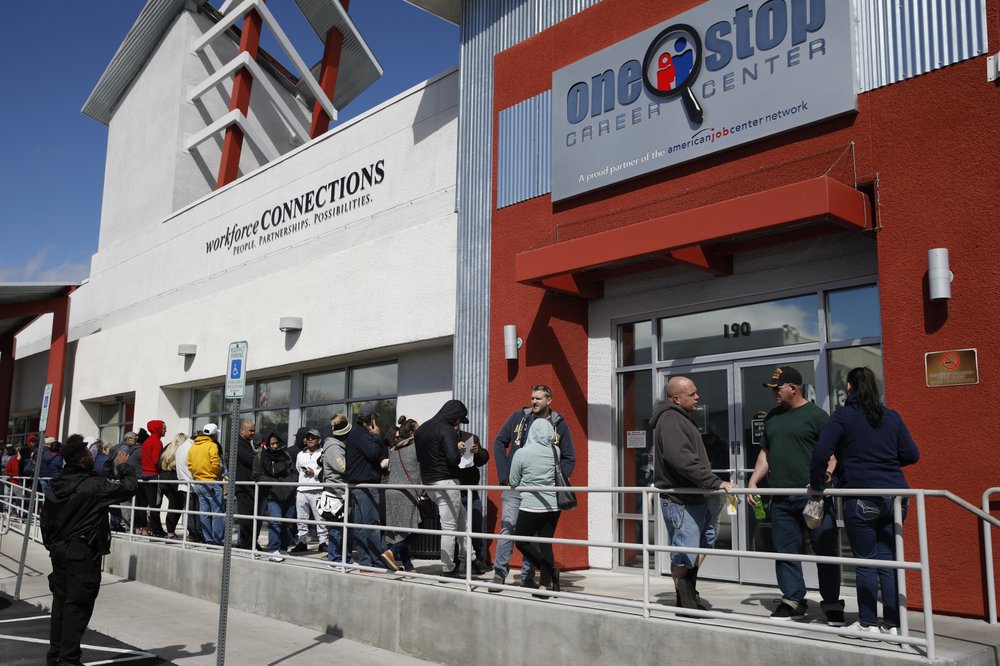 In this March 17, 2020 file photo, people wait in line for help with unemployment benefits at the One-Stop Career Center in Las Vegas. (Photo: AP)
WASHINGTON, April 9 (Xinhua) -- The U.S. Federal Reserve on Thursday unveiled new programs to provide up to 2.3 trillion U.S. dollars in loans to support the economy disrupted by the coronavirus break.
"This funding will assist households and employers of all sizes and bolster the ability of state and local governments to deliver critical services during the coronavirus pandemic," the Fed said in a statement.
The programs the Fed announced Thursday includes establishing a Municipal Liquidity Facility that will offer up to 500 billion dollars in lending to states and municipalities.
Meanwhile, the Fed will purchase 600 billion dollars in loans through the Main Street Lending Program to ensure credit flows to small and mid-sized businesses.
The Fed will also expand the size and scope of the Primary and Secondary Market Corporate Credit Facilities as well as the Term Asset-Backed Securities Loan Facility, which will now support up to 850 billion dollars in credit to households and businesses.
"The Fed's role is to provide as much relief and stability as we can during this period of constrained economic activity, and our actions today will help ensure that the eventual recovery is as vigorous as possible," Fed Chair Jerome Powell said in a statement.
At an event hosted by the Brookings Institution later in the day, Powell said the central bank is deploying these lending powers to "an unprecedented extent" to help shepherd the economy through this difficult time.
"We will continue to use these powers forcefully, proactively, and aggressively until we are confident that we are solidly on the road to recovery," he said.
But Powell stressed that the Fed can only make secured loans to solvent entities with the expectation that the loans will be fully repaid, as the central bank is not authorized to grant money to particular beneficiaries.
The Fed chief believed that the economic rebound can be robust when the spread of the virus is under control, businesses reopens and people come back to work.
"We are using our tools to help build a bridge from the solid economic foundation on which we entered this crisis to a position of regained economic strength on the other side," he said.