New law warrants more open, fair China market for foreign firms: British business leader
Global Times
1578076400000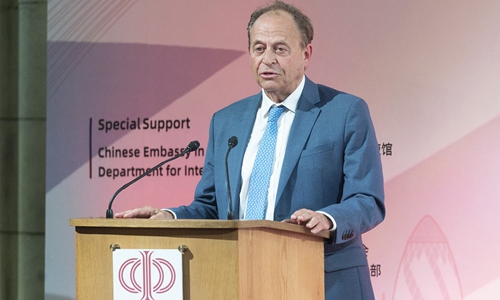 Chairman of the 48 Group Club Stephen Perry addresses the 2nd China-UK Economic and Trade Forum in London, Britain, June 26, 2019. (Photo: Xinhua)
The new foreign investment law reflects China's strong determination to build a more open and fair market for foreign firms, Stephen Perry, chairman of Britain's 48 Group Club, told Xinhua in a recent interview.
As a comprehensive and fundamental set of legal standards for foreign investment activities, the foreign investment law, passed by China's top legislature in early 2019, took effect on Wednesday to better protect foreign investors' interests.
"The highlight of the law is to make Chinese market more open and fair to foreign firms," Perry, who is a recipient of China Reform Friendship Medal for his contribution to China's reform and opening-up, told Xinhua via email.
"The law is designed to meet the new era of opening up and reform and will prove to be well suited to the demands of the next phase of China's development," he said.
Previously, foreign investment in China was mainly regulated by three separate laws on Chinese-foreign equity joint ventures, wholly foreign-owned enterprises and Chinese-foreign contractual joint ventures. They had provided strong legal safeguards for foreign enterprises but were outgrown by the needs of reform and opening up in the new era.
"The law must keep pace with these changing periods, and then change again as a new period arrives," said Perry, noting that China has been the first among nations to introduce new laws to adapt itself into new times.
With the new law, foreign-invested enterprises will be granted access to government procurement markets through fair competition. The law also bans using administrative licensing and penalties to force foreign investors and firms to transfer technology.
Launching the reform and opening-up in 1978, China is now striving to turn itself into a modern socialist country that is prosperous, strong, democratic, culturally advanced and harmonious by the time it celebrates its centenary in 2049.
By that time, there will be surely a great change and progress in China, said Perry.