Tmall says it's launching lawsuit over rumors it fabricated Singles' Day sales
Global Times
1573670178000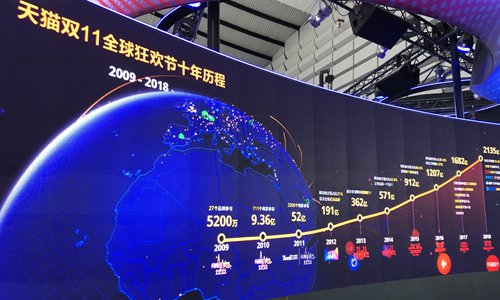 Sales records for Alibaba's Double 11 shopping festival are on display during the World Internet Conference in Wuzhen, East China's Zhejiang Province on October 19, 2019. (Photo: GT)
In response to market rumors that Alibaba's online shopping mall Tmall fabricated its sales numbers for the Double 11 shopping festival held Monday, the company said that it has launched legal procedures over the claim and every order generated at every second is "absolutely authentic and accurate."

"We hope that there are no more such 'IQ tests' that insult everyone's intelligence," a Tmall spokesperson said on the company's Weibo account on Tuesday night, without identifying who will be sued. The post had been deleted as of press time.

Tmall's gross merchandise volume hit a record high of 268.4 billion yuan ($38.29 billion) on November 11, also known as China's Singles' Day shopping festival.

The sales number was close to a predictive post by a netizen in April, which claimed that Alibaba employed complicated statistical models to fabricate "beautiful" sales volume for the Single's Day. Based on the model, the volume was estimated at the time to be about 268.9 billion yuan this year.

"Alibaba's Jack Ma Yun is a liar and he has been cheating global consumers for 10 years," the post alleged.

The predicted number was only 500 million yuan higher than the actual transaction volume Tmall disclosed. Some netizens found the post from April, and shared and forwarded it on China's social media platforms Tuesday, which generated some discussion online.

In response, Tmall's chief PR officer said in a WeChat post on Tuesday that using the netizen's logic, every number that was in line with statistical predictions was fabricated. "The global economy could also be predicted using statistical models, so is that number fabricated too?"

Late on Tuesday night, Tmall's spokesperson assured the public about the authenticity of the sales data while thanking everyone for making purchases. The person said that the company is not surprised that such market rumors that aim to hurt its reputation circulated during the shopping festival.

"Data may have been predicted but what we cannot predict is the booming potential of consumption, the power of technology and the innovation of the manufacturing industry as well as the surprise and expectation of millions of consumers," the post read.