Cathay Pacific announces $5 bln recapitalization plan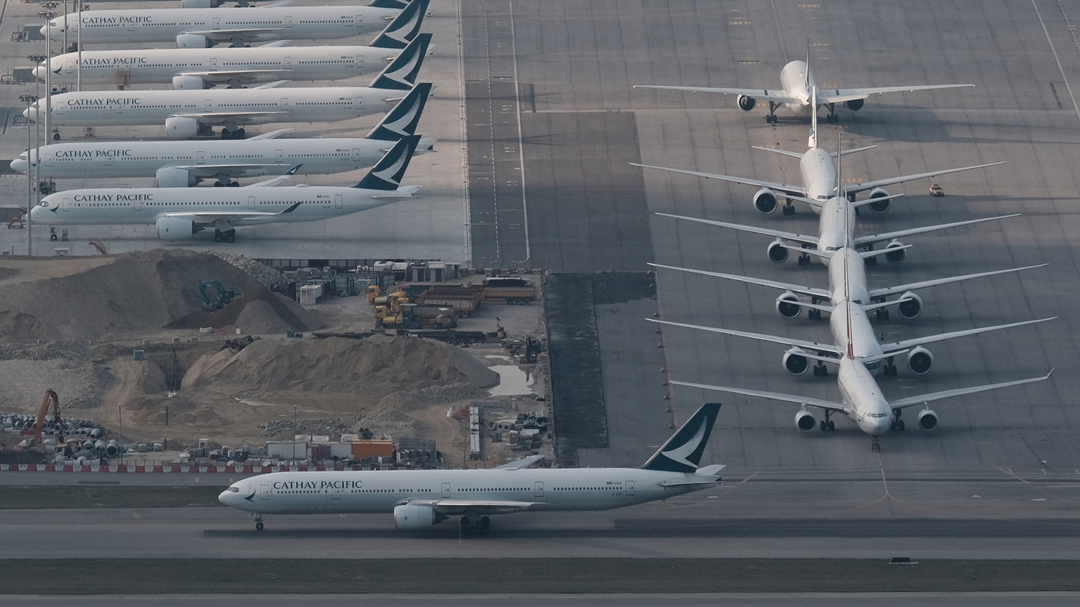 Cathay Pacific aircraft are seen parked on the tarmac at the airport in Hong Kong, China, March 5, 2020. (Photo: VCG)
Cathay Pacific will undergo a 40-billion-Hong Kong-dollar (5.2 billion U.S. dollars) capital restructuring exercise with the Hong Kong SAR government providing loans in exchange for a stake in the company as it battles a crippling downturn caused by the coronavirus.
"Cathay Pacific has explored available options and believes that a recapitalization is required to ensure it has sufficient liquidity to weather this current crisis," the flagship Hong Kong carrier said in a statement to the city's stock exchange.
The SAR government will lead a near 30-billion-Hong Kong-dollar (3.9 billion U.S. dollars) bailout package for Cathay Pacific Airways Ltd, giving it two observer seats in the boardroom, South China Morning Post reported on Tuesday, citing sources.
The shares will be acquired through Aviation 2020 Limited, a Hong Kong company wholly owned by the city's Financial Secretary Incorporated.
Cathay and major shareholders Swire Pacific Ltd and Air China Ltd halted trading on Tuesday morning pending an announcement. Swire owns a 45 percent stake in Cathay and Air China owns 30 percent.
Cathay has grounded most of its planes because of falling demand amid coronavirus-related travel curbs, flying only cargo and a skeleton passenger network to major destinations such as Beijing, Los Angeles, Singapore, Sydney, Tokyo and Vancouver.
The company last month said it had made an unaudited loss of 4.5 billion Hong Kong dollars at its full-service airlines Cathay and Dragon over January-April and flagged a "very bleak" outlook.
Cathay in March sold six Boeing 777-300ER jets and associated equipment for 703.8 million U.S. dollars to BOC Aviation Ltd, which Morningstar analyst Ivan Su said would cover more than half its projected cash outflow in 2020.
Cathay has furloughed some pilots at overseas bases and cut cabin crew roles in the United States and Canada since the start of the coronavirus pandemic, but has not announced large-scale permanent job losses.