DPRK says US must stop drills 'once and for all' to facilitate talks
The United States must end its joint exercises with Seoul "once and for all" to facilitate dialogue with Pyongyang, the Democratic People's Republic of Korea (DPRK) said Tuesday, just days after the allies postponed planned drills.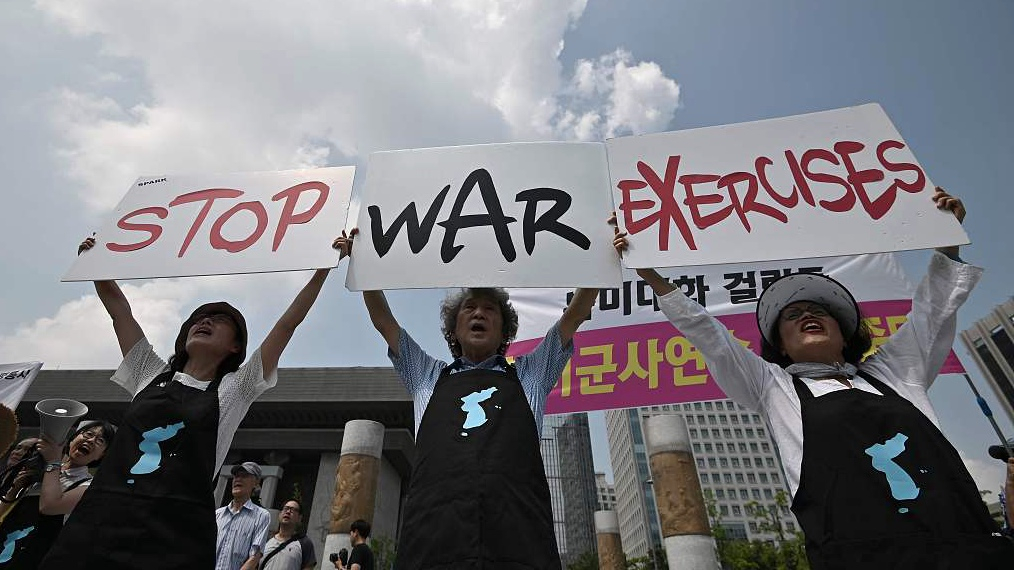 Anti-war activists hold placards reading "Stop War Exercises" during a rally near the U.S. embassy in Seoul, South Korea, August 5, 2019. (Photo: VCG)
The U.S. and South Korea said Sunday they would delay annual joint aerial exercises slated for this month in an act of "goodwill" after months of deadlocked nuclear talks.
Pyongyang has long protested the joint drills, which it condemns as being preparations for invasion, and Seoul and Washington last year canceled several training sessions in the wake of the Singapore summit between U.S. President Donald Trump and DPRK leader Kim Jong Un.
But Kim Yong Chol, a senior DPRK official who formerly led talks with the U.S., said the weekend postponement was irrelevant. "We demand that the U.S. quit the drill or stop it once and for all," Kim said in a statement carried by the Korean Central News Agency (KCNA).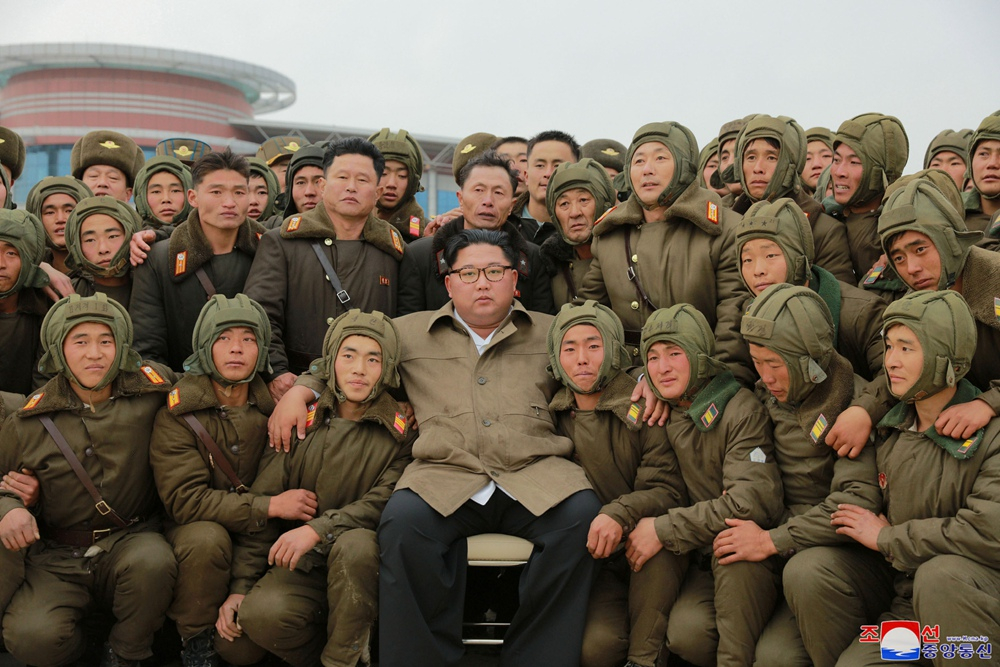 DPRK leader Kim Jong Un poses with sharpshooters of the Air and Anti-Aircraft Force in the DPRK, in this undated picture released by the KCNA on November 17, 2019. (Photo: CGTN)
"The suspension of the drill does not mean ensuring peace and security on the Korean Peninsula and is not helpful to the diplomatic efforts," he added. The DPRK had "no intention" to sit down with the "tricky U.S." and would not return to talks "before the complete and irrevocable withdrawal of its hostile policy."
"From now on, the DPRK will get due compensation for every administrative achievement the U.S. president has talked too much about for over a year," the official added.
Meanwhile, DPRK's chief nuclear negotiator Kim Myong Gil said Tuesday that dialogue Pyongyang and Washington is "impossible" unless the U.S. drops its "hostile policy."
In an interview with the KCNA, Kim said: "As we have already reiterated several times, the DPRK-U.S. dialogue is impossible unless the U.S. makes a bold decision to drop the hostile policy towards the DPRK."
He added that Sweden "no longer needs to work for" the talks, noting it is "not for lack of communication channel or mediator" that the next round of talks has not taken place.
Washington recently offered to hold a new round of talks with Pyongyang through Sweden in December, according to Kim. The two sides previously held talks in Stockholm in October, which ended with little sign of progress.