Firms in China's trade hub Zhejiang show resilience to global COVID-19 shocks
Global Times
1588410383000
Despite pandemic economic spasms overseas, businesses in East China's Zhejiang Province showed resilience thanks to their quick response, highly digitalized operations and commitment to restoring globalization against the headwinds.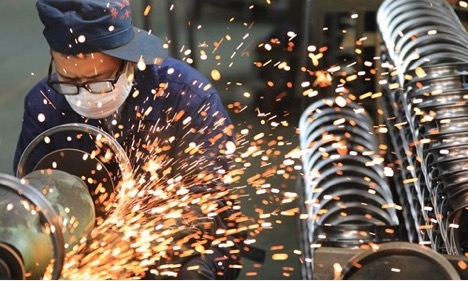 A worker is polishing a steel ring for a bicycle at a company in Hangzhou, East China's Zhejiang Province on April 13. (Photo: cnsphoto)
In an online meeting held on Wednesday by the General Association of Zhejiang Entrepreneurs, renowned business leaders vowed to further promote digitalization and globalization as well as explore domestic demand to cushion the blow of the COVID-19 pandemic – which has turned out to be far more complicated and severe than initially expected.
Participants of the meeting included Jack Ma Yun, founder of e-commerce giant Alibaba, Shen Guojun, chairman of Intime Retail (Group), Li Shufu, chairman of Zhejiang Geely Holding Group, and Du Fujiang, chairman of Hangzhou Minsheng Pharmaceutical Group Co among others.
In the past, innovative spirit, advanced management and technologies allowed Zhejiang businesses to quickly adapt to different situations and be the first to break any predicaments. This time is no exception despite the difficulties caused by the global public health crisis, experts said.
According to Ye Hang, an economics professor at the College of Economics of Zhejiang University, there are several points to take away from the response of Zhejiang-based businesses.
"The first is that digitalization has become the key to companies' survival as we can see that highly digitalized companies witnessed less impacts and recovered at the quickest pace during the epidemic outbreak in China," Ye told the Global Times on Saturday. "Now all walks of life in Zhejiang are actively exploring how to adapt to the digital age to keep themselves afloat amid the unprecedented crisis."
This week also saw the department of commerce of Zhejiang Province launch a three-day online services trade exhibition, which attracted over 80 domestic businesses and more than 180 overseas firms. The cloud exhibition aims to maximize Zhejiang's advantages in services such as trade and digital sectors, which will facilitate foreign trade and explore the global market.
In the first quarter of this year, Zhejiang registered positive growth in 10 services trade sectors. The exports of telecommunications, computer and information services surged by 118.8 percent year-on-year to 31.32 billion yuan (about $4.44 billion) from January to March. The data comes as China's service trade fell 10.8 percent year-on-year during the same period due to the impact of coronavirus.
Moreover, businesses in Zhejiang, especially those small and medium-sized ones, are generally more flexible to change and can transform based on the situation, Ye noted, adding that he has observed that many of them have turned to manufacturing products related to fighting the virus after the outbreak.
According to Chinese media reports, there are a large number of clothing companies in Zhejiang that have started producing masks after their export orders dried up.
But that doesn't mean Zhejiang companies have given up on globalization, because there are still businesses holding onto their overseas orders.
"Despite the impact, as far as I know, Christmas orders this year haven't dropped too much, overseas customers are still placing orders for the Christmas," Chen Jinlin, former general secretary of Yiwu Christmas Products Industry Association, told the Global Times on Saturday. "No one can replace Yiwu in the global market share of Christmas supplies."
During difficult times, globalization also means responsibility for Zhejiang entrepreneurs.
"Entrepreneurs must take the responsibility to restore globalization. When countries and the world as a whole are in trouble, we need to do business more than ever, because businesses and trade are key to resolving conflicts," Jack Ma said at the Wednesday meeting.