China's Hainan to set up new pilot zone for sports tourism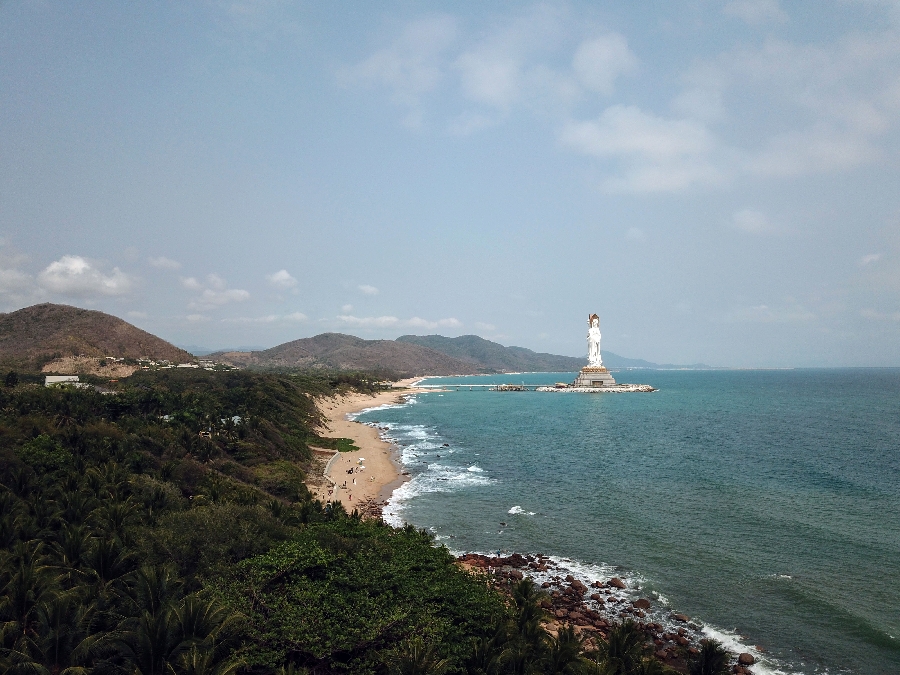 Aerial photo taken on March 22, 2019 shows the scenery of the Nanshan Cultural Tourism Zone in Sanya, south China's Hainan Province. (Photo: Xinhua)
Sports fans will have more to expect on Hainan Island as the development of a national sports tourism pilot zone in the island promises new attractions-staging of more big-ticket international sports events, more well integrated sports tourism routes featuring the island's unique natural and cultural resources, and access to duty-free branded sports goods.
Construction of China's first national sports tourism pilot zone, according to a five-year plan issued by the Hainan provincial government on Monday, will also bring about huge business opportunities for both domestic and overseas companies, said officials at a news conference in Haikou on Tuesday.
"In line with the country's strategy to build a nation with powerful sports infrastructure and the construction of Hainan pilot free trade zone (port), the pilot zone will speed up supply-side reforms and introduce more policies to accelerate opening of the sports tourism industry and market in five years starting from this year," said Xu Xianghong, deputy director of the Hainan provincial tourism and sports authority.
"The pilot zone is expected to gain initial progress in pioneering the development of the country's sports tourism and cultivating a brand image by 2022. Construction of the national sports tourism pilot zone and an international sports tourism destination should be completed by 2025, with two or three industrial clusters formed and successful experiences ready to be copied and promoted nationwide," Xu said.
With a green and international vision, the pilot zone will focus on upgrade of sports tourism infrastructure, development of the sports tourism industry and promotion of sports tourism products, to ensure establishment of an integrated world-class sports tourism business model and environment, he said.
The pilot zone will strengthen international exchanges and cooperation, especially with countries and regions in the South China Sea region, to attract investment and develop international sports tourism boutique routes, education and training, and competition activities, according to the five-year plan.
It said Hainan will also consider building five duty-free sporting goods stores across the island and establish a trading center for sports intellectual property rights while encouraging the development of sports tourism equipment manufacturing industry.
While introducing diversified international competition sports tourism products, Hainan will make efforts to build its own branded competition events, the report said.
Jiang Yiyi, a professor of leisure sports at the Beijing Sports University, said Hainan has made solid explorations in developing sports tourism and sport science in the past years and it boasts advantages to build a national pilot zone for sports tourism.
"Hainan has many natural advantages, and the island is home to many training and competition bases. A large number of international sport events including the Round-island International Cycling, the International Sailing Regatta, and golf tournaments have been held in the tropical island, which has made Hainan a popular international sports tourism destination," said Jiang.
More than 83 million tourists from home and abroad visited southern China's tropical island province of Hainan in 2019, up 9 percent year-on-year, according to the local government.