Foreign firms target night market success with niche offerings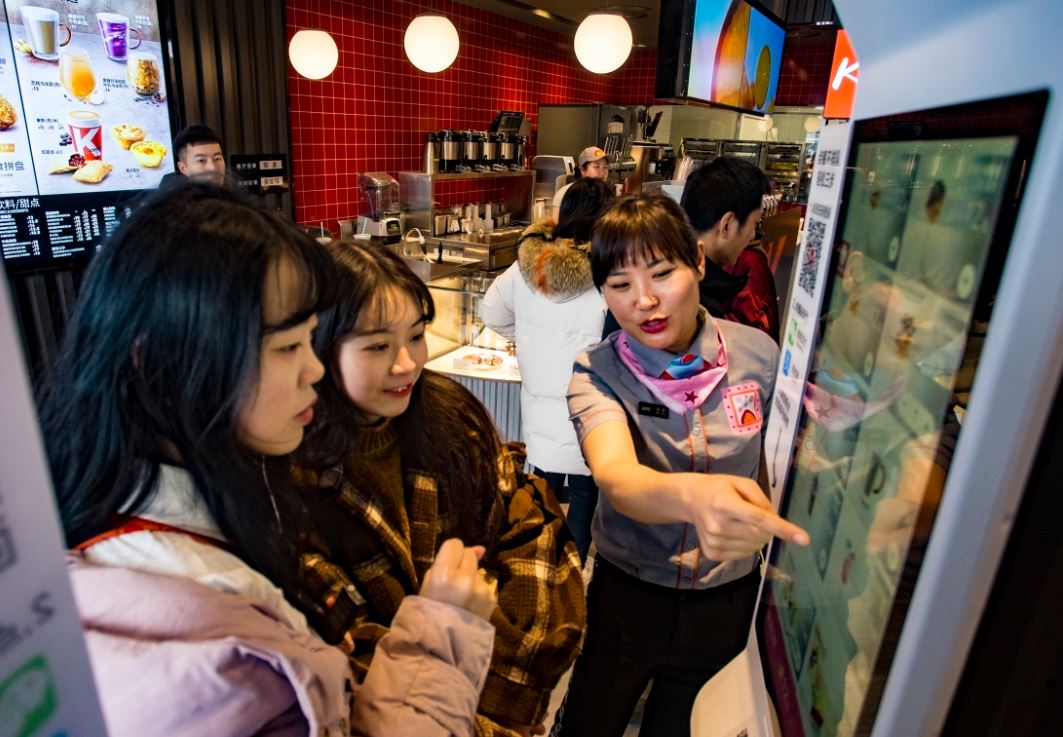 An employee helps customers to place orders through an interactive terminal in a KFC store in Nantong, Jiangsu province. (Photo: China Daily)
It is not a surprise that KFC's latest product innovation is chicken-related. But a bucket full of spicy chicken offal for night snack deliveries has shocked Chinese consumers.
The feedback was explosive. Photos of the KFC kebab spicy dipping sauce have gone viral on the internet.
On July 15, KFC started to sell late night treats including spicy kebabs and stewed fowl, traditional late night treats in southern China. The kebab bucket has cooked chicken heart, chicken stomach, agaric and bean curd and aorta of livestock.
The stewed category has stewed chicken wings, chicken heart, chicken stomach and chicken pieces.
The products were available on KFC's mobile application, priced at 59 yuan ($8.5) for 12 pieces of kebabs and 39 yuan for the stewed fowl.
Though KFC and McDonald's have previously experimented with including Chinese food on their menus such as porridge and fried twisted cruller, it is the first time that foreign fast food chains have put offal products on their menus.
Consumers in Shanghai, Chengdu, Chongqing, Harbin and Shenyang can buy the products currently. Beijing is not included in the list.
"It is an attempt by KFC to localize its offerings especially for late nights in summer," said Jason Yu, general manager of Kantar Worldpanel. "By doing so it can appeal to younger consumers."
The two offerings are also considered easier for quality control and taste.
According to reports from the Ministry of Commerce, about 60 percent of dining consumption occurs at night. More than six out of 10 Chinese consumers have gone for food at night at least once, and the night food delivery market's growth has been much higher than others, according to data from the China Dining Association.
Foreign companies in China have faced fierce pressure from local players, pushing them to roll out more localized products at a faster speed. For example, Skittles - a brand from US chocolate major Mars - has launched jasmine and rose flavored candies to attract local consumers. Nestle's local research team launched a series of new instant coffee products with three flavors - peach, pineapple and green apple - to attract younger Chinese consumers.
According to the latest China Shopper Report from Bain & Company and Kantar Worldpanel in June, Chinese brands grew by 15 percent since 2016, contributing 76 percent of market growth in 2018.By comparison, foreign brands grew more slowly - by 9 percent since 2016 - and contributed 24 percent to last year's market growth.
The encouraging news for foreign brands is that despite being outpaced by domestic companies, the 24 percent growth in market share is actually double the rate in 2017.Foreign brands are learning what it takes to win in China, according to the report.
It requires keeping pace with the market's rapid changes, the report said.